The Third Shift: Managing Hard Choices in Our Careers, Homes, and Lives as Women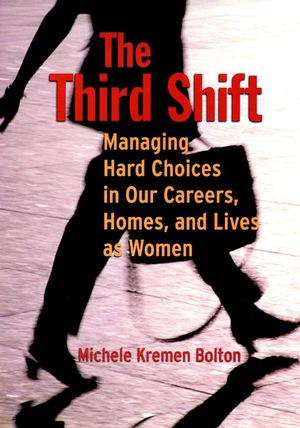 The Third Shift: Managing Hard Choices in Our Careers, Homes, and Lives as Women
ISBN: 978-0-787-94854-2 July 2000 Jossey-Bass 352 Pages
Description
Today's women work not one but three shifts: the first from nine to five, the second at home, and the third in their minds as they review the decisions and actions of the day. While the first and second shifts may be physically exhausting, the third shift can be psychologically rending because many women use it to second-guess their motives, doubt their choices, and question their trade-offs. Michele Bolton shows women how to turn the third shift into a source of self-awareness and self-confidence instead. Drawing from a three-year study of women in Silicon Valley and her own experiences as a working mother, Bolton explores the three most important dilemmas all women face, whether they're corporate executives, entrepreneurs, or full-time moms. She then presents women with a practical plan for facing these dilemmas, making the hard choices, and embracing their decisions.
Introduction: Managing the Third Shift: Choices and Challenges for Women.

THE IDENTIFYING CHALLENGE: WHO ARE WE.

The Myth of Androgyny: Who Are We Supposed to Be?

Gender at Work: When Does It Matter?

A Business of One's Own: Who are We When We We're on Our Own?

From High-Rise to Hearth and Home: How Do We Thrive?

THE TASK CHALLENGE: WHAT ARE WE TO DO?

Management 101 for Women: Doing What Matters.

Women Entrepreneurs: Balancing Logic and Emotion.

Women at Home: Understanding the Job Description.

THE BALANCE CHALLENGE: WHO COMES FIRST?

The Crux of the Matter: Defining Personal Achievement.
""Many women executives today struggle with the work/life balance. Michele Bolton's study and work assures us that those who take the time to listen to their inner selves often have greater effectiveness on both fronts."" (Lisa Salamone, executive vice president, The Gap)

""This book does a wonderful job of offering practical, readable advice to women struggling to balance home and work. But I have a little secret to share. It is also a great book for men who want (and need!) to learn about 'third-shift' stress, and discover how they can become part of the solution."" (David Sadker, professor, American University, and co-author, Failing atFairness: How Our Schools Cheat Girls)