The Third Way: The Renewal of Social Democracy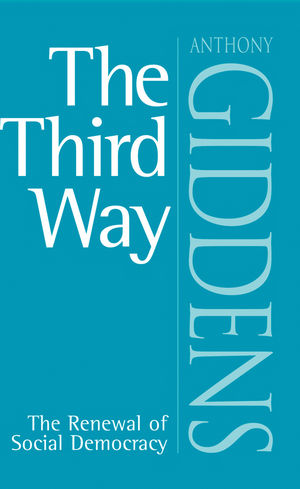 The Third Way: The Renewal of Social Democracy
ISBN: 978-0-745-62267-5 January 1999 Polity 176 Pages
Description
The idea of finding a 'third way' in politics has been widely discussed over recent months - not only in the UK, but in the US, Continental Europe and Latin America. But what is the third way? Supporters of the notion haven't been able to agree, and critics deny the possibility altogether. Anthony Giddens shows that developing a third way is not only a possibility but a necessity in modern politics.
Table of contents
Preface.
1. Socialism and After.
The death of socialism.
Old-style social democracy.
The neoliberal outlook.
The doctrines compared.
The recent debates.
Structures of political support.
The fate of social democracy.
2. Five Dilemmas. .
Globalisation. Individualism.
Left and right.
Political agency.
Ecological issues.
Third way politics.
3. State and Civil Society.
Democratising democracy.
The question of civil society.
Crime and community.
The democratic family.
4. The Social Investment State. .
The meaning of equality.
Inclusion and exclusion.
A society of positive welfare.
Social investment strategies.
5. Into the Global Age.
The cosmopolitan nation.
Cultural pluralism.
Cosmopolitan democracy.
The European Union.
Market fundamentalism on a world scale.
Conclusion. .
Notes.
Index.
Reviews
"How can democracies gain the benefits that flow from market forces while pursuing a community that cares for those who fall behind? Anyone interested in fresh approaches to such questions will have to read Tony Giddens's new book. It is a feast of fresh ideas."
Joseph S. Nye, Jr., Dean of the John F. Kennedy School of Government, Harvard University
"Tony Giddens, allegedly Tony Blair's favourite intellectual, has done what many considered impossible: he has constructed a coherent and persuasive definition of the third way. But importantly he has pulled it off, insisting that rather than being beyond left and right, it is part of the left, the renewal of social democracy. This book could be decisive in persuading the Blairites that they must look to the left rather than the right for their political future. It is an important and potentially very significant political intervention." Will Hutton, Editor-in-Chief, the Observer

"Tony Giddens has made the most significant contribution yet to laying the intellectual foundations of a modernized centre-left position. This book will be a landmark. It is a pioneering work of vital interest to the formation of political thinking on both sides of the Atlantic." Ian Hargreaves, formerly Editor of New Statesman and The Independent

"This is an important book that deserves to be taken seriously ... the author puts forward an intellectual defence of Tony Blair's politics which is engaging, comprehensive and open. It has a punchy style, and is written with a breathless excitement which makes it easy to read. The Third Way is a major contribution." The Stakeholder

"A worthwhile and stimulating read." Earth Matters

"Anthony Giddens has earned a considerable reputation among social scientists over the past three decades as a theorist. Though important within the academy, such reputations have a limited cachet in the world at large. Recently, though, Giddens has attained bona fide celebrity, or at least demicelebrity, status outside the cloisters, in his related roles as director of the London School of Economics and intellectual darling of British Prime Minister Tony Blair's New Labour party. His name by now must be a household word in his native Britain, given the frequency with which he is mentioned in the media there. On this side of the Atlantic as well, he has been interviewed, cited as expert, and his ideas variously praised and panned in a wide variety of non-academic, even mainstream media." Christopher J. Richter, Communication Theory Book Review

"Giddens has constructed a coherent and persuasive 'intergrated political programme'" Harish Kapur, World Affairs<!--end-->