The Third Way and its Critics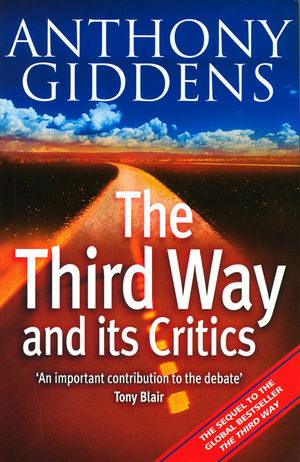 The Third Way and its Critics
ISBN: 978-0-745-62450-1 May 2000 Polity 200 Pages
Download Product Flyer
Download Product Flyer
Download Product Flyer is to download PDF in new tab. This is a dummy description. Download Product Flyer is to download PDF in new tab. This is a dummy description. Download Product Flyer is to download PDF in new tab. This is a dummy description. Download Product Flyer is to download PDF in new tab. This is a dummy description.
Description
The idea of finding a 'third way' in politics has become a focus of discussion across the world. Political leaders, in the US, Europe, Asia and Latin America claim to be following its principles. Yet the notion has also attracted much criticism. Some say it is an empty concept without any real content. Critics from the more traditional left argue that it is a betrayal of left-wing ideals.

Anthony Giddens's The Third Way (Polity Press, 1998) is regarded by many as the key text of third way politics. Translated into twenty-five languages, it has shaped the development of the third way. In this new book Giddens responds to the critics, and further develops the ideas set out in his earlier volume. Far from being unable to deal with inequalities of wealth and power, he shows, third way politics offers the only feasible approach to these issues. The work is indispensable for anyone who wants to understand the most important political debate going on today.

Anthony Giddens is the Director of the London School of Economics and Political Science. He is the author or editor of over thirty books. His previous works, especially Beyond Left and Right (Polity Press, 1994) have influenced debates about the future of social democracy in many countries across the world. Frequently referred to in the UK as Tony Blair's guru, Giddens has made a strong impact on the evolution of New Labour.
Table of contents
Preface.
1. The Third Way and its Critics.
2. Social Democracy and the Third Way.
3. Government, the State and Economic Strategy.
4. The Question of Inequality.
5. Taking Globalisation Seriously.
Reviews
'There is now a global attempt to apply progressive values in new ways. The debate about the Third Way is vital to politics in the 21st century. This book is an important contribution to the debate.'
Tony Blair, Prime Minister of the United Kingdom
'This is a crucial period for the European Union. We need new thinking about democracy and economic development. Tony Giddens gives us some vital clues about how to achieve these aims.' Romano Prodi, President of the European Commission

'The third way debate has become a truly world-wide one, affecting all countries. It has shown a convergence of ideas, together with a diversity of policies. This book marks a major further development in the evolution of the left.' Fernando Henrique Cardoso, President of Brazil

'Anthony Giddens has done more than most to insert globalization into the modern-day political vocabulary. His The Third Way and its Critics is essential reading for anyone wanting to understand new Labour.' Mark Perryman, New Statesman

'Giddens aims his new book specifically at critics on the left. It begins with an excellent summary of their views: with impressive honesty they are forcefully advanced rather than caricatured ... This book is written in a lively manner and discusses much interesting and important material.' Democratization
Features
* Offers a comprehensive response to the critics of 'The Third Way'

* Develops arguments laid out in 'The Third Way' in new and original ways

* Illustrates how third way politics can address fundamental issues such as inequalities of of wealth and power

* An essential text for anyone who wants to be informed about key discussions taking place across the UK, Europe and the World.