The Ties That Bind: Timeless Values for African American Families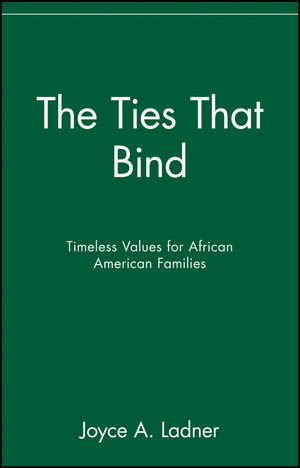 The Ties That Bind: Timeless Values for African American Families
ISBN: 978-0-471-39958-2
Dec 2000
224 pages
Description
"Dr. Joyce A. Ladner brings profound insight to the challenge of raising strong children in ambivalent times, and offers abundant reasons to rejoice in renewing family ties. A treasury of time-tested virtues." -Bookpage

"[A] wonderful guide . . . . Ladner has taken words of wisdom from generations past to help parents, teachers, and clergy with new insight into instilling pride, courage, and self-esteem in African American children." -Booklist

"A book full of lessons on restoring important values to African American families. . . . [Dr. Ladner] weaves together historical and contemporary issues to offer innovative ways to reconnect the black family." -Ebony

"A practical guide for today, and for a better tomorrow. If you care about African American people, then you must read this book." -Dr. Johnnetta B. Cole, Emory University

"A crucial template for parents, youth workers, educators, and community groups working closely with young people." -Hugh B. Price, President, National Urban League

"A masterpiece of scholarship." -Andrew Billingsley, University of South Carolina

"An inspirational and compelling book. Everyone committed to preserving African American values should read it. . . . A must for your home library." -Alvin F. Poussaint, M.D., Harvard Medical School
Foreword by Dr. Dorothy I. Height.

Acknowledgments.

KEEPING THE PROMISE.

Frank Talk About Black Values.

The First Principle: Identity Determines Personal Power.

The Second Principle: We Did Not Raise Ourselves Alone.

The Third Principle: We Are Making the Future Together.

The Fourth Principle: The Past Is Prologue.

THE BLACK VALUE SYSTEM--TIMELESS TIES THAT BIND.

The First Lesson: Remember Where You Came From.

The Second Lesson: Trust in the Lord.

The Third Lesson: Respect Is a Two-Way Street.

The Fourth Lesson: Don't Make Excuses.

The Fifth Lesson: Do an Honest Day's Work.

The Sixth Lesson: Make a Way Out of No Way.

The Seventh Lesson: Every Child Can Learn.

The Eighth Lesson: Keep the Can-Do Spirit.

The Ninth Lesson: Stand Tall.

The Tenth Lesson: Your Word Is Your Bond.

PERSONAL TRANSITIONS--THE POWER OF INTIMATE TIES.

Saving Our Relationships.

Loving Our Children.

PASSING ON THE LEGACY.

Timeless Treasures for the Family.

Timeless Treasures for the School and the Community.

Timeless Treasures for the Church.

Timeless Treasures for the State and the Nation.

Facing Tomorrow.

Selected Bibliography.

Resources.

Index.