The Tocqueville Reader: A Life in Letters and Politics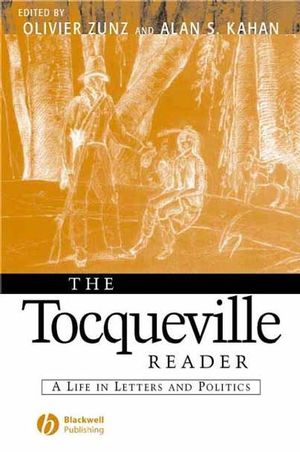 The Tocqueville Reader: A Life in Letters and Politics
ISBN: 978-0-631-21546-2
Oct 2002, Wiley-Blackwell
384 pages
Description
The Tocqueville Reader includes not only Tocqueville's major writing but also travel letters, conversations with ministers and politicians, and diary entries not originally intended for the public. It includes twenty-nine pieces never before translated into English, and a wide-ranging editorial introduction that gives an account of Tocqueville's life as a politician and inspirations as a writer.
Introduction.
Chronology.
Part I: The Discovery of Democracy in America:.
Preliminary Note.
Illustration: Map of the American Voyage.
1. Travel Letters: First Impressions of America and Important Sketches of Democracy in America, 1831.
2. Excerpts from American Notebooks: Tocqueville's Conversations with His American Informants; Travel Impressions on the Road.
3. Volume One of Democracy in America, 1835.
Part II: Great Britain, France, and the United States:.
Preliminary Note.
4. Discovery of England, Poverty, Pauperism, and Social Policy, 1835-1837.
5. Ambitions, Marriage, and Tocqueville's Views of His Own Brand of Liberalism, 1833-1840.
6. Volume Two of Democracy in America.
Part III: The Years in Politics:.
Preliminary Note.
7. Tocqueville's Political Philosophy.
8. Tocqueville the Colonialist.
9. Tocqueville in 1848.
10. Tocqueville Retires from Political Life and Returns to Writing.
Part IV: The Return to The Old Regime and the Revolution:.
Preliminary Note.
11. The Old Regime and the Revolution Volume One.
12. The Old Regime and the Revolution Volume Two.
13. Last days.
Suggestions for Further Reading.
Note on Sources and Translations.
About the Editors.
"This fine volume should become the standard source of Tocqueville's writings in the Anglophone world. Now that ideologues are trying to highjack Tocqueville for their own partisan purposes, it is particularly valuable to have this splendid collection that reflects the depth of Tocqueville's insights into democracy, liberty, and the delicate balance between them on both sides of the Atlantic. By including the best of Tocqueville's work on a wide range of topics and providing lucid commentary, Zunz and Kahan offer readers an accurate, historically grounded understanding of one of the 19th century's most brilliant thinkers." James T. Kloppenberg, Harvard University
"A collection like this has been needed for a long time. It is accessible, broad-ranging, ably translated and superbly edited. Anyone who appreciates the genius of this greatest of French political writers will find it both a handy reference, and a source of delightful surprises." David A. Bell, The Johns Hopkins University

"Highly Recommended. General readers, and lower-division undergraduates and above." P.Coby, Smith College

"The Tocqueville Reader... is a splendid selection from Tocqueville's works that reflects the originality and depth of his ideas on democracy, liberty and modern society" Aurelian Craiutu, Indiana University


Comprehensive – excepts are from all Tocqueville's major works, as well as letters and shorter writings.


Fresh – translations have been updated for greater readability.


Original – no other Tocqueville reader has ever been published, and this book contains 29 pieces never before translated into English.


Authoritative – expertly written introductory essay covers Tocqueville's life and thought.