The Too Many Tomatoes Cookbook: Classic and Exotic Recipes from Around the World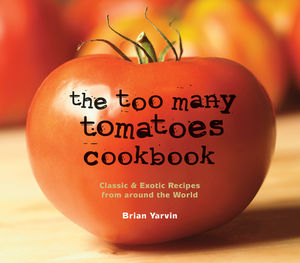 The Too Many Tomatoes Cookbook: Classic and Exotic Recipes from Around the World
ISBN: 978-0-881-50803-1
*Norton agency titles
320 pages
Product not available for purchase
Description
The perfect kitchen companion for when your garden is teeming with tomatoes.
Nothing tastes more heavenly than a marinara sauce or a salsa made from fresh, home-grown tomatoes, but when you're yearning for some more innovative dishes, fanatical chef and photographer Brian Yarvin (author of A World of Dumplings) provides more than 100 additional easy, mouth-watering recipes that will ensure that your succulent tomatoes won't go to waste.
Yarvin first provides instructions for processing tomatoes to make the basic "starters": crushed tomatoes, whole peeled tomatoes, and passata (fresh tomato puree), so that you can quickly preserve their freshness. Easy to refrigerate and freeze, these tomato bases are the beginnings of the many delicious recipes that span the globe and range from traditional to unique, from salads and side dishes to soups; meat, poultry, and fish dishes, rice and pasta, pizza and calzone, salsas, ketchups, chutneys, and relishes, and even desserts.