The Trader's Great Gold Rush: Must-Have Methods for Trading and Investing in the Gold Market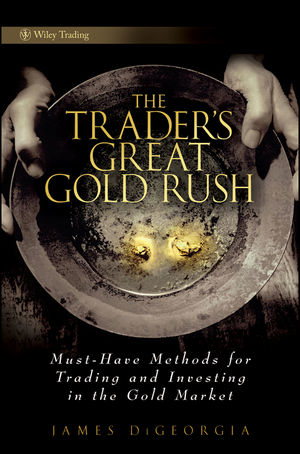 The Trader's Great Gold Rush: Must-Have Methods for Trading and Investing in the Gold Market
ISBN: 978-0-470-55279-7
Sep 2009
224 pages
Description
THE TRADER'S GREAT GOLD RUSH
"James DiGeorgia is the best expert I know when it comes to investing in gold bullion. ¿This is not your father's gold market anymore, so getting the right information from the right people is key to helping you succeed as a gold investor."—Tom Mcclellan, Editor, The McClellan Market Report, ¿#1 Ranked Ten-Year Gold Timer (1999-2008)¿
"James DiGeorgia is a stalwart of precious metals. He draws on a lifetime of interest and commitment in The Trader's Great Gold Rush to inform you about 'tricks of the trade' that will come in handy as you seek to protect yourself from the looming solvency crisis of the U.S. government. This is a good book. But you have to read it now. Don't wait for the movie."—JAMES DAVIDSON, founder, Agora, Inc., and Editor, Strategic Investment
Throughout history, gold has been a safe haven in times of political and economic crisis. Right now, gold's fundamentals are remarkably strong, says veteran commodities market analyst James DiGeorgia. In fact, gold is poised to boom—reaching, DiGeorgia predicts, as high as $2,500.
From the fundamentals of investing in the gold market to the 17 common pitfalls to avoid, The Trader's Great Gold Rush tells you everything you need to know to take advantage of the coming surge in gold.
This is the perfect time to invest in gold.
And this book will show you how.
Part I An Introduction to Today's Gold Market.
Chapter 1 Why Gold is Going to $2,500.
Chapter 2:Bullish Fundamentals.
Chapter 3 A New Source of Gold Demand.
Chapter 4 Gold, Inflation, and the Federal Reserve.
Chapter 5 Skyrocketing Debt, Plummeting Savings.
Chapter 6 The Social Insurance Time Bomb.
Chapter 7 Gold and the Long War Against Terror.
Chapter 8 Gold, Deflation, and the 2008-2009 Economic Crisis.
Part II: A Technical Approach to Entering the Gold Market.
Chapter 9 Using Technical Analysis to Trade Gold.
Chapter 10 Approaching Gold as a Technician.
Chapter 11 Technical Analysis and Forecasting of Gold Prices Using the BFG Outlier Research Process (BFG).
Part III: How to Invest in and Trade Gold.
Chapter 12 Introduction to Gold Trading Vehicles.
Chapter 13 Gold Bullion.
Chapter 14 Investing in and Collecting United States Gold Coins: The Best Approach.
Chapter 15 Modern Commemorative $5 Gold Coins and Intelligent Gold Play.
Chapter 16: Ancient Gold Coins.
Chapter 17 Trading Gold Funds.
Chapter 18 Trading Gold Stocks.
Chapter 19 Speculating in Canadian Junior Resource Stocks.
Chapter 20 Hedging and Speculating with Futures.
Chapter 21 Hedging and Speculating with Gold Options.
Chapter 22 Mistakes to Avoid When Trading and Investing in Gold.
About the Author.
Index.