The Trader's Guide to Key Economic Indicators: With New Chapters on Commodities and Fixed-Income Indicators, 2nd, Updated and Expanded Edition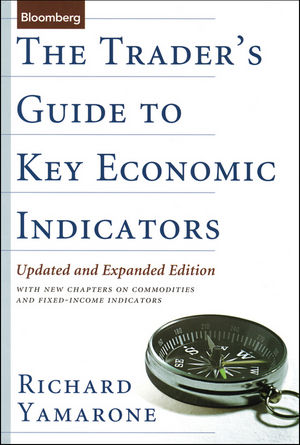 The Trader's Guide to Key Economic Indicators: With New Chapters on Commodities and Fixed-Income Indicators, 2nd, Updated and Expanded Edition
ISBN: 978-0-470-90178-6
Jun 2010
344 pages
Description
New economic data are reported by the media virtually every trading day. Investors--big or small--have to understand how these reports influence their investments, portfolios, and future sources of income.

The new edition of The Trader's Guide to Key Economic Indicators homes in on the most important economic statistics used on Wall Street today and in a clear and concise voice tells you exactly what these important reports measure and what they really mean.

With two new chapters on commodities and fixed-income indicators, this fully updated edition will be an easy-to-use desk reference for new readers, but will also be favored by fans of the first book.

From GDP and employment to consumer confidence and spending, you'll learn what to look for and how to react. This handy reference, illustrated with scores of instructive graphs and charts, will put you ahead of the market curves.
Acknowledgments.
Introduction.
The Business Cycle.
Indicators and the Markets.
How to Use This Book.
Who Can Benefit from This Book?
Note: All chapters are structured into the following sections.
Evolution of an Indicator.
Digging for the Data.
What Does It All Mean?
How to Use What You See.
Tricks from the Trenches.
1. Gross Domestic Product.
2. Indexes of Leading, Lagging, and Coincident Indicators.
3. The Employment Situation.
4. Industrial Production and Capacity Utilization.
5. Institute for Supply Management Indexes.
6. Manufacturers' Shipments, Inventories, and Orders.
7. Manufacturing and Trade Inventories and Sales.
8. New Residential Construction.
9. Conference Board Consumer Confidence and University of Michigan Consumer Sentiment Indexes.
10. Advance Monthly Sales for Retail Trade and Food Services.
11. Personal Income and Outlays.
12. Consumer and Producer Price Indexes.
13. The Fixed-Income Market.
14. Commodities.
References.
Index.