The Trainer's Warehouse Book of Games: Fun and Energizing Ways to Enhance Learning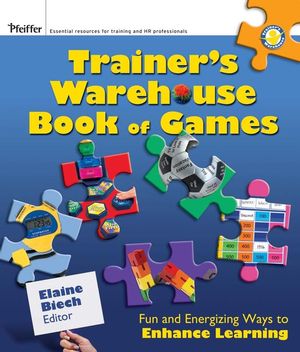 The Trainer's Warehouse Book of Games: Fun and Energizing Ways to Enhance Learning
ISBN: 978-0-470-27716-4
Mar 2008, Pfeiffer
325 pages
Description
Kick up your training sessions a notch! If you want to make group learning more fun and effective, this is the resource for you. Training expert Elaine Biech, author of Training for Dummies, challenged some of the world's best game designers to create never-before-seen games using popular training toys and tools from Trainer's Warehouse, the nation's leading supplier of learning resources. Whether you're a full-time workplace learning professional or occasional trainer, this collection contains the most ingenious and inventive collections of learning games. The collection uses a host of common and readily available tools and toys, from throwables and tactiles, to white boards on a stick and noise-making boomwackers. This book will appeal to anyone who delivers training and education—and presenters, too—the games run the gamut from short energizers, icebreakers and closers, to more involved group and team-building activities.
Preface.
Appreciation.
SECTION ONE. WHAT'S AHEAD.
Chapter 1. Experiencing Learning: The Whys and Hows of Involving Participants.
Chapter 2. Setting the Stage for Playful Learning.
Section Two: Training Tools and Techniques.
SECTION TWO. TRAINING TOOLS AND TECHNIQUES.
Chapter 3. Openings.
Chapter 4. Icebreakers.
Chapter 5. Energizers.
Chapter 6. Participation Encouragement.
Chapter 7. Comprehension and Retention.
Chapter 8. Time and People Management.
Chapter 9. Training Techniques.
Chapter 10. Rewards and Recognition.
Chapter 11. Review of Knowledge and Skills.
Chapter 12. Closings.
SECTION THREE: TRAINING AND CONSULTING TOPICS.
Chapter 13. Change Management.
Chapter 14. Communication and Trust.
Chapter 15. Creativity.
Chapter 16. Customer Service.
Chapter 17. Organization Knowledge.
Chapter 18. Personal Development.
Chapter 19. Problem Solving.
Chapter 20. Process and Projects.
Chapter 21. Supervision, Management, and Leadership.
Chapter 22. Teamwork and Team Building.
Contributors.
About the Editor.