The Transformation of Meaning in Psychological Therapies: Integrating Theory and Practice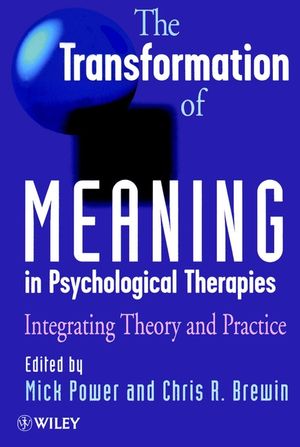 The Transformation of Meaning in Psychological Therapies: Integrating Theory and Practice
ISBN: 978-0-471-97005-7
May 1997
228 pages
Description
Are there common mechanisms that apply across different therapies that might explain their effectiveness? Many psychologists, psychotherapists and counsellors, whether clinicians or researchers, now recognize that one such key mechanism involves the transformation of meaning in the process of therapy. The purpose of this book is to show how the transformation of meaning is related to therapeutic change. Change in therapy can and should occur at a number of levels for improvement to be maintained, whether in behavior therapy, cognitive therapy or psychoanalytic therapy. The leading scientists and practitioners who have contributed to this book approach therapy from very different perspectives, but they together help to fashion a common framework for understanding the role of meaning in therapeutic change.
About the Editors.

List of Contributors.

Preface.On the Causal Role of Meaning (D. Bolton & J. Hill).

The Biopsychosociology of Meaning (P. Gilbert).

Conscious and Unconscious Representations of Meaning (M. Power).

Early Adversity and the Creation of Personal Meaning (B. Andrews).

The Impact of Trauma on Meaning: From Meaningless World to Meaningful Life (R. Janoff-Bulman & C. Frantz).

Psychological Defences and the Distortion of Meaning (C. Brewin).

The Transformation of Meaning in Cognitive Therapy (A. Hackmann).

The Transformation of Meaning: The Interacting Cognitive Subsystems Approach (J. Teasdale).

Emotion in the Creation of Personal Meaning (L. Greenberg & J. Pascual-Leone).

The Transformation of Meaning: A Psychoanalytic Perspective (P. Mollon).

Foundations for the Systematic Study of Meaning and Therapeutic Change (M. Power & C. Brewin).

Author Index.

Subject Index.