The Transformative Power of Women's Philanthropy: New Directions for Philanthropic Fundraising, Number 50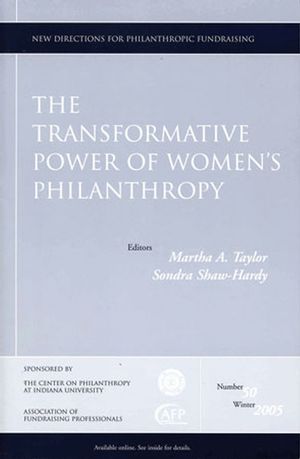 The Transformative Power of Women's Philanthropy: New Directions for Philanthropic Fundraising, Number 50
ISBN: 978-0-787-98617-9 May 2006 Jossey-Bass 224 Pages
Description
Written for any development officer or woman looking to be more effective in her philanthropy and volunteer leadership, this issue explores how women's philanthropy has shaped the world. The contributors, all experts in the field of women's philanthropy, examine leaders in the modern women's philanthropic movement and predict where the movement is headed. The volume closes with five new initiatives and a call to action for women's philanthropy in this generation.

This is the 50th issue of New Directions for Philanthropic Fundraising, a journal published quarterly by Jossey-Bass, a Wiley imprint.
Special Foreword (
Paulette V. Maehara, Eugene R. Tempel
).
Editors' Notes (Sondra Shaw-Hardy, Martha A. Taylor).
1. The emergence and future of the modern women's philanthropy movement (Sondra Shaw-Hardy)
This chapter traces the transformative women's philanthropy movement and its pioneers, then looks at the future through the eyes of women philanthropists.
2. How American women's philanthropy helped build economic growth and a democratic society (Claire Gaudiani)
Drawing on women's past creativity and entrepreneurial spirit, Gaudiani challenges women to learn about and then emulate the power of women's past to address contemporary problems.
3. Women's philanthropic leadership: How is it different? (Bonita Banducci)
The author presents answers to help both women and men better understand how women's special leadership qualities and differences can build more fruitful and profound collaborations for the greater good of all.
4. Women executives and business owners: A new philanthropy (Cynthia R. Jasper)
This chapter looks at the new philanthropic expectations society has of women executives and business owners. Examples are given of women who have been generous and creative in their philanthropy and what is still needed in philanthropic education.
5. Married couples' charitable giving: Who and why (Eleanor Brown)
What decision-making role does a husband or wife have over charitable giving? Brown presents answers based on research about couples and shows the differences when the decision maker is a woman.
6. The dynamics of women and family philanthropy (Ellen E. Remmer)
Because women head an increasing number of family foundations, Remmer looks at the positive impact of this trend while posing a number of questions about what this will mean to the future of philanthropy.
7. Women philanthropists: Leveraging influence and impact as change makers (Tracy Gary)
Gary describes the growth of giving by women donors over her thirty-year perspective and how women need to become money mentors for the next generation. She invites all to live and leave legacies with the same hope and joy she has enjoyed.
8. Giving circles: A powerful vehicle for women (Jessica Bearman, Buffy Beaudoin-Schwartz, Tracey A. Rutnik)
The authors discuss how the concept of philanthropy has changed from an activity for just the wealthy to collective philanthropy particularly suited to women. They suggest ways to start a giving circle.
9. Women's volunteerism and philanthropy at Princeton University (Michele Minter)
In this case study of Princeton University's successful Women in Leadership Initiative, Minter describes the key components of Princeton's program, which includes a strong message of leadership and responsibility.
10. Women's philanthropy programs at coeducational colleges and universities (Jeanie Lovell)
Eight coeducational colleges and universities that have women's philanthropy programs are explored. The author discusses the benefits and challenges of establishing alumnae initiatives designed to educate and engage more women as leaders and donors.
11. Women, wealth, and endowed philanthropy: Trends and innovations in foundations (Kimberly Otis, Katherine Jankowski)
While describing the nonprofit organization Women & Philanthropy, the authors also discuss the private grant-making foundations with assets of more than $3 billion created by women since 1996 and highlight examples of several of these foundations whose grant making affects the lives of women and girls.
12. Launching new initiatives and raising a call to action (Martha A. Taylor)
Taylor defines five new initiatives for the women's philanthropy movement and raises a call to action for women's philanthropy for this generation.
13. Additional reference material
This chapter provides basic references on women's philanthropy by the editors, including the Six C's of women's giving, ten effective strategies for women philanthropists, and twelve tips for development professionals. Also included is a resource list of women's philanthropy national organizations.
Index.