The Transnational Capitalist Class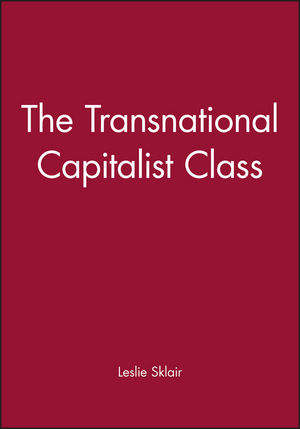 The Transnational Capitalist Class
ISBN: 978-0-631-22462-4 December 2000 Wiley-Blackwell 352 Pages
Description
The Transnational Capitalist Class provides theoretically informed empirical research to explain the process of globalization from the viewpoint of the corporations themselves. Through personal interviews with executives and managers from over eighty Fortune Global 500 corporations, Sklair demonstrates how globalization works from the perspective of those who control and oppose the major globalizing corporations and their allies in government and the media. Sklair's unique approach brings a fresh perspective to what has become a key debate of our time.
Table of contents
List of Figures and Tables.
Preface and Acknowledgments.
1. Introduction:.
Global System Theory.
Four Propositions on the Transnational Capitalist Class.
Structure of the Book.
2. Globalizing Class Theory:.
Theorizing the Dominant Class. Structure and Dynamics of the Transnational Capitalist Class.
Dominant Classes and Dominated Groups.
'National' Interest and the 'National' Economy.
3. Transnational Corporations and the Global Economy:.
The Global Economy and the Fortune Global 500.
Consumer Goods and Services.
Financial Services.
Heavy Industries.
Infrastructure.
Electronics.
From 'National Companies with Units Abroad' to Globalizing Corporations.
Global 500 Consumer Goods and Services Corporations.
Global 500 Financial Services Corporations.
Global 500 Heavy Industries Corporations.
Global 500 Infrastructure Corporations.
Global 500 Electronics Corporations.
The Non-respondents.
Conclusions.
4. Corporate Elites and the Transformation of Foreign Investment:.
The Transformation of Foreign Investment.
Global Brands.
The Regulatory Climate.
Phases of Foreign Investment.
The Home Base and Foreign Investment: The Case of NAFTA.
Disinvestment.
Foreign Investment as a Globalizing Practice.
5. World Best Practice, Benchmarking and National Competitiveness:.
World Best Practice, Benchmarking, and Globalization.
Industry Benchmarking.
Global Programme Benchmarking: Six Sigma and the Quest for Perfection.
Politicians, Professionals and the 'Competitiveness of Nations'.
World Best Practice as a Globalizing Practice.
6. Global Corporate Citizenship:.
Regulating the Corporations: History and Theory.
Employee Relations.
Corporate Philanthropy and Community Development.
Safety and Health of Consumers and Citizens.
Corporate Citizenship as a Globalizing Practice: Deconstructing Shell.
7. The Transnational Capitalist Class and the Struggle for the Environment:.
History and Theory of Corporate Environmentalism.
Corporate Capture of the Environmental Movement or Constructive Dialogue: the Creation of a Sustainable Development Historical Bloc.
Environmental Policies and Practices of Major Corporations.
Procter and Gamble.
Mitsubishi.
Monsanto.
Intel.
Dow.
RTZ (Rio Tinto).
BHP.
BP (BP Amoco).
Sustainable Development as a Globalizing Ideology.
8. Global Vision and the Culture-Ideology of Consumerism:.
Consumer-Oriented Global Visions for Humanity.
Industry-Oriented Global Visions.
Organization-Oriented Global Visions.
The Visionary Executive.
Global Vision as a Globalizing Practice.
9. Conclusion:.
Appendix 1: Fortune Global 500 Corporations (and Subsidiaries) Interviewed, by Business Sector.
Appendix 2: Other Corporations and Organizations Interviewed.
References.
General Index.
Author Index.
Reviews
"It will henceforth be difficult to theorize globalization without this rich storehouse of information about the global corporations and their role in the current world system."
Fredric Jameson, Duke University
"This is a pioneering and innovative study of an aspect of globalization that is rarely treated in any systematic way. Through a judicious mix of conceptual argument and empirical analysis, Leslie Sklair's stimulating and highly readable book lays bare the anatomy of the increasingly significant transnational capitalist class. Highly recommended." Peter Dicken, University of Manchester

"This book provides a stocktaking of the drivers of globalization worldwide, emphasizing the coherence of the process but also its contradictions, particularly those associated with economic inequality and environmental stress." Journal of Australian Political Economy

"The entire process of globalization is fraught with conflicts and new alliances between groups, be they based in corporations, government or social movements. In the end, Sklair does a superb job of depicting which group is dominant in this process and how it vigorously defends its interests from attacks against the culture-ideology of consumerism." International Sociology

"In making his case, Sklair takes a strong position to critique TNC and he pulls no punches. For this reason, he has given us a very important standpoint, along with abundant evidence to sustain his position. But whatever one's position, this book will have a major place in the academic debates." Lauren Langman, Loyola University of Chicago, Theory and Society 31, 2002<!--end-->
Features
Identifies and analyzes globalizing corporations and their allies.

Critically assesses corporate perspectives and debates about globalization.



Research drawn from interviews with over 80 Fortune Global 500 executives and managers.