The Transverse Information Systems: New Solutions for IS and Business Performance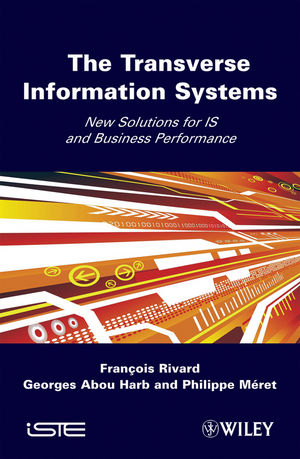 The Transverse Information Systems: New Solutions for IS and Business Performance
ISBN: 978-1-848-21108-7
May 2009
352 pages
Description
Information systems have an enormous potential for improving business performance. With this in mind, companies must set out to exploit and optimize this potential without delay in order to improve their efficiency and continue to set themselves apart from the competition. This comprehensive text provides the information needed to understand and implement these systems at a practical level.
Buy Both and Save 25%!
This item: The Transverse Information Systems: New Solutions for IS and Business Performance
Information Warfare (Hardcover $99.00)
Original Price:$212.00
Purchased together:$159.00
save $53.00
Cannot be combined with any other offers.
Preface xi
Acknowledgements xv
Chapter 1. Innovation for Business Value and Cost-killing 1
1.1. Supporting profit and growth 3
1.2. Assessing innovation 9
1.3. Agility and alignment 15
1.4. Sustainable development and information assets 24
Chapter 2. The Transverse Information System 29
2.1. A regular increase in power 30
2.2. Optimizing business unit assets 36
2.3. The impact on the IT department agenda 41
Chapter 3. Master Data 49
3.1. An unclaimed asset 50
3.2. Master data management: centralization 65
3.3. Enterprise information integration: federation 74
3.4. Between centralization and federation 78
3.5. Data governance 80
3.6. Towards information management 83
3.7. Bibliography 84
Chapter 4. Service-Oriented Architectures 85
4.1. Basic impacts 87
4.2. A major lever for a change in progress 93
4.3. A new experiment in the finance bank 102
4.4. Technologies and architecture 106
4.5. Flexibility is an event? Yes, agent! 118
Chapter 5. Business Process Management 121
5.1. From managing business processes to BPM 122
5.2. Understanding BPM 137
5.3. The business process from the IS perspective 147
5.4. BPM promises and prospects 155
5.5. Conclusion: the place of BPM in the company and in the IS 157
Chapter 6. Exchange Platforms 159
6.1. The development of data exchanges 159
6.2. Technologies and architectures 172
6.3. Project typology 185
6.4. A common foundation 188
Chapter 7. Complex, Innovative Business Architectures 189
7.1. Natural connections 190
7.2. An investigation into the distribution sector 198
7.3. A project in the energy sector 205
7.4. A program in retail banking 209
Chapter 8. The Impact of NISS on Software Implementation 219
8.1. The process standard 221
8.2. Towards assembly and beyond 225
8.3. Model-driven architecture and docking 241
8.4. A "sourcing" process to be defined 244
Chapter 9. From Implementation to Measurment 247
9.1. Towards operational excellence 248
9.2. Business activity monitoring 253
9.3. SOA management 269
9.4. The loop is completed 272
Chapter 10. Contribution and Impact of NISS on Organization 275
10.1. From the business unit to IT: a new fluency 276
10.2. Governance of information assets 283
10.3. Organization methods 297
10.4. Managing change and maturity stages 305
Chapter 11. How to Get the Best Out of NISS 307
11.1. The initial phases 307
11.2. The foundations: creating platforms 318
11.3. From the process angle 322
11.4. Here and now 328
11.5. Bibliography 329
Index 331