The Travel Industry, 3rd Edition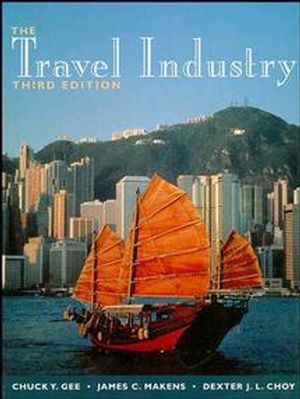 The Travel Industry, 3rd Edition
ISBN: 978-0-471-28774-2 January 1997 512 Pages
Description
The Travel Industry Third Edition What makes a positive visitor experience? Authors Chuck Y. Gee, Ph.D., DPS (Hon.), James C. Makens, Ph.D., and Dexter J.L. Choy, Ph.D. assert that public policies—local, regional, and even global—play a vital role in defining the quality of a visitor's experience. The savvy hospitality and travel professional will not only understand these influences, but know how to shape them. The Travel Industry helps the student achieve both goals. This innovative third edition focuses on topics of a more global nature, such as concepts of trade barriers as impediments to promoting international travel and tourism. Specific illustrations are offered on how government policies, including diplomatic recognition, will affect tourism trade relationships. The third edition also covers current U.S. policies and reciprocal acts to promote tourism exchanges with other countries, as well as a special section on the amusement, entertainment, and retail product aspects of tourism. Other highlights of the third edition include: • the impact of technology on travel distribution systems • ticketless travel leading to a redefining of the role of tomorrow's travel agents • expanded text on land transportation, including discussions on NAFTA's effect on rail travel • information on tourist business enterprises • technology and the international hotel business. To enhance student learning, every chapter of The Travel Industry offers study objectives, key terms, illustrations, industry vignettes, a summary, discussion questions, and suggested assignments.
OVERVIEW OF THE TRAVEL INDUSTRY.

The Travel Industry Network.

The Development of Travel.

Travel Trends and Motivations.

GOVERNMENT ROLE AND PUBLIC POLICY.

Diplomatic and Consular Framework.

National Tourism Administration and Public Policy.

TOURISM DEVELOPMENT.

Destination Planning and Development.

Impacts of Tourism.

SELLING TRAVEL.

Travel Sales Distribution Systems.

Travel Agencies and Other Intermediaries.

TRANSPORTATION SERVICES.

Water Transportation.

Land Transportation.

Air Transportation.

HOSPITALITY AND RELATED SERVICES.

Accommodations.

Food and Beverage.

Amusement, Entertainment, and Sports-Related Tourism.

Travel-Related Shopping and Financial Services.

Appendix.

Glossary.

Index.