The Triumph of Religion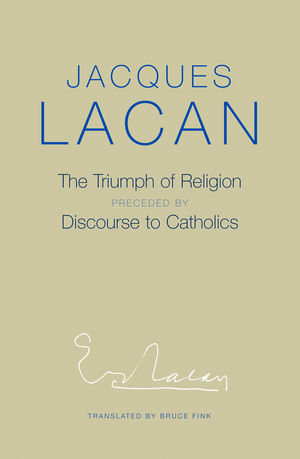 The Triumph of Religion
ISBN: 978-0-745-65989-3
Oct 2013, Polity
96 pages
Description
"I am the product of priests", Lacan once said of himself. Educated by the Marist Brothers (or Little Brothers of Mary), he was a pious child and acquired considerable, personal knowledge of the torments and cunning of Christian spirituality. He was wonderfully able to speak to Catholics and to bring them around to psychoanalysis. Jesuits flocked to his school.

Freud, an old-style Enlightenment optimist, believed religion was merely an illusion that the progress of the scientific spirit would dissipate in the future. Lacan did not share this belief in the slightest: he thought, on the contrary, that the true religion, Roman Catholicism, would take in everyone in the end, pouring bucketsful of meaning over the ever more insistent and unbearable real that we, in our times, owe to science.

- Jacques-Alain Miller
Table of Contents
Note by Jacques-Alain Miller
Discourse to Catholics

Lecture Announcement
I. Regarding Morality, Freud Has What It Takes
II. Can Psychoanalysis Constitute the Kind of Ethics Necessitated by our Times?

The Triumph of Religion
I. Governing, Educating, and Analyzing
II. The Anxiety of Scientists
III. The Triumph of Religion
IV. Closing in on the Symptom
V. The Word Brings Jouissance
VI. Getting Used to the Real
VII. Not Philosophizing
Translator's Notes
Bibliographical Information
Jacques Lacan was one of the leading thinkers of the 20th Century and the most influential psychoanalyst after Freud. His work has been hugely influential across a wide range of disciplines, from philosophy and psychology to literary theory, critical theory, gender studies and cultural studies.
In this short book Lacan develops his views on religion, which played an important role in his life and in the development of his ideas - 'I am the product of priests', he once said of himself.
Whereas Freud believed religion was an illusion that would be dissipated by the progress of science, Lacan took the opposite view, arguing that Catholicism - the true religion in his view- would take in everyone in the end.
This important book, now available for the first time in English, will be of great interest to students and scholars in psychoanalysis, critical theory, literary theory, gender studies, philosophy and the humanities and social sciences generally.