The Trouble With Black Boys: ...And Other Reflections on Race, Equity, and the Future of Public Education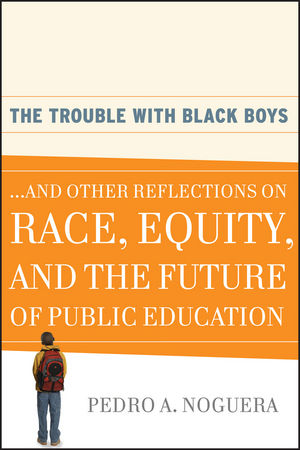 The Trouble With Black Boys: ...And Other Reflections on Race, Equity, and the Future of Public Education
ISBN: 978-0-470-54512-6 June 2009 Jossey-Bass 368 Pages
Description
For many years to come, race will continue to be a source of controversy and conflict in American society. For many of us it will continue to shape where we live, pray, go to school, and socialize. We cannot simply wish away the existence of race or racism, but we can take steps to lessen the ways in which the categories trap and confine us. Educators, who should be committed to helping young people realize their intellectual potential as they make their way toward adulthood, have a responsibility to help them find ways to expand identities related to race so that they can experience the fullest possibility of all that they may become. In this brutally honest—yet ultimately hopeful— book Pedro Noguera examines the many facets of race in schools and society and reveals what it will take to improve outcomes for all students. From achievement gaps to immigration, Noguera offers a rich and compelling picture of a complex issue that affects all of us.
Table of contents
The Author.
Introduction.
Part One: The Student Experience.
1. Joaquin's Dilemma: Understanding the Link Between Racial Identity and School-Related Behaviors.
2. The Trouble with Black Boys: The Impact of Social and Cultural Forces on the Academic Achievement of African American Males.
3. And What Will Become of Children Like Miguel Fernández?/Y Qué Pasará Con Jóvenes.
Como Miguel Fernández? Education, Immigration, and the Future of Latinos in the United States.
4. How Listening to Students Can Help Schools to Improve.
Part Two: The Search for Equity.
5. Latino Youth: Immigration, Education, and the Future.
6. Preventing and Producing Violence: A Critical Analysis of Responses to School Violence.
7. Schools, Prisons, and Social Implications of Punishment: Rethinking Disciplinary Practices.
8. Racial Politics and the Elusive Quest for Excellence and Equity in Education.
Part Three: The Schools We Need.
9. Reclaiming the Promise of Public Education With Alan Blankstein.
10. Standards for What? Accountability for Whom? Rethinking Standards-Based Reform in Public Education.
11. Racial Isolation, Poverty, and the Limits of Local Control as a Means for Holding Public Schools Accountable.
12. Transforming Urban Schools Through Investments in Social Capital.
Notes and References.
Epilogue: Joaquin's Dilemma Revisited.
Index.
Discussion Questions.
What's New
URGENT SUBJECT: Covers provocative topics like race relations, racial identity, school violence, and desegregation
BROAD & COMPREHENSIVE IN SCOPE:  This book will cover a wide range of topics and issues for a broad audience.  It will offer an accessible overview of the race/equity debates for concerned citizens and students.
RESPECTED AUTHORITY: Pedro Noguera's background as a respected African-American scholar brings relevance an d reality to his articles.