The U.S. Technology Skills Gap: What Every Technology Executive Must Know to Save America's Future, + Website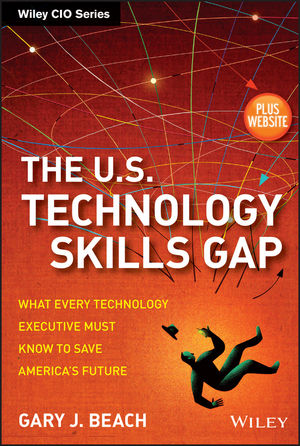 The U.S. Technology Skills Gap: What Every Technology Executive Must Know to Save America's Future, + Website
ISBN: 978-1-118-47799-1
Jul 2013
336 pages
Description
Is a widening "skills gap" in science and math education threatening America's future? That is the seminal question addressed in The U.S. Technology Skills Gap, a comprehensive 104-year review of math and science education in America. Some claim this "skills gap" is "equivalent to a permanent national recession" while others cite how the gap threatens America's future economic, workforce employability and national security. 
This much is sure: America's math and science skills gap is, or should be, an issue of concern for every business and information technology executive in the United States and The U.S Technology Skills Gap is the how-to-get involved guidebook for those executives laying out in a compelling chronologic format: 
The history of the science and math skills gap in America
Explanation of why decades of astute warnings were ignored
Inspiring examples of private company efforts to supplement public education
A pragmatic 10-step action plan designed to solve the problem
And a tantalizing theory of an obscure Japanese physicist that suggests America's days as the global scientific leader are numbered
Engaging and indispensable, The U.S. Technology Skills Gap is essential reading for those eager to see America remain a relevant global power in innovation and invention in the years ahead.
CIOs Speak xv
Preface xix
Ac knowledgments xxv
Part One: How Did We Get Here? 1
Chapter 1 1941: The Subject We Love to Hate 3
Math? Not for Me! 4
"Minimize the Effect of Schooling" 5
Young Adults with IQs of Eight-Year-Olds 5
The Fall Continues 6
President Roosevelt Understands Science 7
An Opportunity Lost 8
Americans Still Hate Math and Science 9
Chapter 2 1945: Operation Paperclip 11
Nazis Hailed as "Outstanding" Scientists 11
Germany's Rocket Man 12
The Nazis Get to von Braun 13
Time Magazine Paints a Dim Picture of von Braun 15
America's Best Rocket: The Bazooka 15
Shipped to America 17
America Had Space Technology before the Soviets 17
Germany Developed the Atomic Bomb First 18
Chapter 3 1950: Deming Says 21
Deming Has an Idea 21
The Lecture Series That Changed the Balance of the World Economy 22
Japan Embraces, America Ignores 24
Datsuns Arrive in Los Angeles 25
American Business Leaders Finally Listen 25
Lessons from Deming 26
Can Total Quality Management Fix the American Education System? 27
Chapter 4 1952: Boomerang 29
What It Means to Teach 29
A Teacher Shortage Exacerbates the Educational Challenges 30
Another Problem: Crumbling Infrastructure 31
Media Critiques Begin 32
Back in the USSR 33
Boomers Perform Poorly on SATs 34
Connecting the Dots 35
The Boomerang Theory 36
Chapter 5 1962: Too Hard to Follow 39
The Rationale for the Lunar Landing 40
Kennedy in His Own Words 40
"It's Just So Darn Hard" 41
Students: Math and Science Are Irrelevant 42
Culture Counts 42
Industry Leaders Offer Advice 43
Do Something about It 44
American Students Not Measuring Up 45
The Results, Please 45
How to Do Something 46
High School Seniors: No, Thank You 47
Perception Is Reality: The Importance of the Guidance Counselor 48
The STEM Pipeline Shrinks More in Higher Education 49
Putting Words in the President's Mouth 51
Chapter 6 1962: Empires of the Mind 53
Did You Know? 53
The Shift Is On 54
The Components of Yuasa's Phenomenon 55
Fast-Forward 55
Yuasa's Phenomenon Arrives in America in 1920 56
Youth Rules 57
Look to the East? 58
Three Patents to the Win 59
America's Innovation Ecosystem at Risk 60
Does It Work for You? 61
The World in 2050 63
Slip Sliding Away? 63
Survival Is Not Compulsory 64
Chapter 7 1963: SAT Down 67
The History of the SAT 67
Asleep at the Wheel for 14 Years 68
The College Entrance Examination Board Responds 68
More Competition for the SAT 69
Why the SAT Scores Dropped 69
How to Get 100 More SAT Points 71
Too Much Mediocrity 71
Chapter 8 1976: Too Many Chiefs 73
A Tale of Two Documents 73
Keep It Local 74
The Great Society Era Ushers in Federal Involvement 74
ESEA: Not All Things Considered 75
Teacher Unions Create the U.S. Department of Education 75
Did I Really Promise That ? 76
President Carter's Top 10 List 76
Eight Years Is Too Short 77
Reagan Shifts from Compliance to Competency 78
Bush Sets Voluntary Education Goals 78
Other Issues Get in the Way 79
Clinton Unsuccessfully Shifts Education Goals from Voluntary to Compulsory 79
No Child Left Behind Ushers in Compulsory Education Compliance 80
Obama Is Stymied by Gridlocked Washington 80
Close Down the U.S. Department of Education 81
Part Two: And the Hits Just Keep on Coming 83
Can You Hear Me Now? 84
Road Trip 84
The Eighth-Grade Focus 84
Connect the Dots 85
It Takes a Village That Cares 85
The Warning System Works 86
Chapter 9 The Skills Gap Warnings Begin 87
1964: The First International Mathematics Study 87
1971: The First International Science Study 87
1971: The National Education Trust Fund 88
1978: The Nation's Report Card 89
1982: The Second International Mathematics Study 90
1983: A Nation at Risk 91
1985: Global Competition: The New Reality 98
1985: Corporate Classrooms: The Learning Business 99
1986: A Nation Prepared: Teachers for the 21st Century 100
1987: Workforce 2000: Work and Workers for the Twenty-first Century 101
1987: The National Science Foundation Annual Report Introduces STEM 102
1987: The Fourth R: Workforce Readiness, a Guide to Business Education Partnerships 103
1989: Winning the Brain Race: A Bold Plan to Make Our Schools Competitive 105
Chapter 10 The Skills Gap Emerges 111
1990: America's Choice: High Skills or Low Wages! 111
1990: The Second International Science Study 113
1990: The National Assessment of Educational Progress 113
1993: John Sculley: "America Is Resource Poor" 114
1995: The Third International Mathematics and Science Study 115
Different Measurement, Improved Ranking 116
1996: The National Assessment of Educational Progress 117
1999: New World Coming: American Security in the 21st Century 118
Chapter 11 The Skills Gap Widens 121
2000: Ensuring a Strong U.S. Scientific, Technical, and Engineering Workforce in the 21st Century 121
2000: Before It's Too Late 123
2000: The Programme for International Student Assessment 125
2000: The National Assessment of Educational Progress Test 128
2002: Unraveling the Teacher Shortage Problem: Teacher Retention Is the Key 129
2003: Building a Nation of Learners 131
2004: Sustaining the Nation's Innovation Ecosystem 132
2005: Losing the Competitive Advantage: The Challenge for Science and Technology in America 134
2005: The Knowledge Economy: Is the United States Losing Its Competitive Edge? 135
2005: The World Is Flat: A Brief History of the Twenty-first Century 137
2005: Rising above the Gathering Storm: Energizing and Employing America for a Brighter Economic Future 138
2005: The National Assessment of Educational Progress 141
2006: Teachers and the Uncertain American Future 142
2006: The Quiet Crisis: Falling Short in Producing American Scientific and Technical Talent 143
2007: We Are Still Losing Our Competitive Advantage: Now Is the Time to Act 144
2007: How the World's Best?]Performing School Systems Come Out on Top 146
2007: Into the Eye of the Storm: Assessing the Evidence on Science and Engineering Education, Quality, and Workforce Demand 149
2007: Tough Choices or Tough Times 151
2007: The Role of Education Quality in Economic Growth 153
2008: Foundations for Success: The Final Report of the National Mathematics Advisory Panel 156
2008: "Lessons from 40 Years of Education Reform" 157
2009: Rising Tigers, Sleeping Giant: Asian Nations Set to Dominate the Clean Energy Race by Out-Investing the United States 159
2009: The CIO Executive Council's Youth and Technology Careers Survey 160
2009: The Economic Impact of the Achievement Gap in America's Schools 162
2009: The Widget Effect: Our National Failure to Acknowledge and Act on Differences in Teacher Effectiveness 163
2009: Steady As She Goes? Three Generations of Students through the Science and Engineering Pipeline 165
Chapter 12 The Consequences of the Skills Gap Become Apparent 171
2010: Rising above the Gathering Storm Revisited: Rapidly Approaching Category 5 171
2010: Why So Few Women in Science, Technology, Engineering, and Mathematics? 172
2010: Waiting for Superman 175
2010: Education Next's Public Perception of Education Survey 175
2010: Interview with Craig Barrett 178
2010: Closing the Talent Gap: Attracting and Retaining Top-Third Graduates to Careers in Teaching 179
2011: The National Assessment of Educational Progress 181
2011: The Intel Corporation's Survey of Teens' Perceptions of Engineering 182
2011: Globally Challenged: Are U.S. Students Ready to Compete? 183
2012: How Well Are American Students Learning? 184
2012: U.S. Education Reform and National Security 186
2012: Prosperity at Risk: Findings of Harvard Business School's Survey on U.S. Competitiveness 187
2012: The World Economic Forum's Annual Global Competitiveness Report 189
2012: Where Will All the STEM Talent Come From? 191
2012: SAT and ACT Scores Reveal Disappointing News 193
2012: Five Misconceptions about Teaching Math and Science: American Education Has Not Declined, and Other Surprising Truths 195
The Long and Winding Road 197
Part Three: Let's Build Some Arks 201
Chapter 13 Patchworking the Tech Skills Gap Begins 203
1965: Skills USA 203
1968: The Xerox Science Consultant Program 204
1989: Women in Technology International 206
1990: Teach for America 208
1994: Tech Corps 209
1995: NetDay 212
1996: SAS Curriculum Pathways 213
1997: The Cisco Networking Academy 215
1998: I.C.Stars 216
1998: Intel Teach 219
Chapter 14 The Pace of Remediation Work on the National Skills Gap Accelerates 223
2000: Year Up 223
2000: The Juniper Networks Foundation Fund 225
2002: Technology Goddesses 227
2002: nPower 229
2003: The Microsoft Imagine Cup 230
2004: Engineering Is Elementary 231
2004: The Junior FIRST Lego League 232
2005: Raytheon's MathMovesU 234
2005: IBM's Transition to Teaching 235
2006: The Khan Academy 237
2006: Cognizant's Maker Faire 239
2007: The National Math and Science Initiative 240
2008: AT&T Aspire 241
2008: AMD's Changing the Game 244
2009: Microsoft's TEALS 245
2009: The Salesforce.com Foundation 249
2009: DIGITS 249
2009: Change the Equation 250
Chapter 15 The Pace of Ark Building Quickens 255
2010: The Broadcom MASTERS 255
2011: CA Technologies and the Sesame Workshop 257
2011: IBM's P-TECH 258
2012: Udacity 261
2012: CA Technologies: Tech Girls Rock 262
2012: Microsoft's Teach.org 264
2012: The Dell Education Challenge 265
2012: The Girl Scouts of America's Generation STEM: What Girls Say about Science, Technology, Engineering, and Math 266
News Alert: More Arks Needed! 269
Epilogue For What It's Worth 273
Top Ten Recommendations for Action 276
Closing Time 289
About the Author 293
About the Website 295
Index 297
"America has a rich tradition of making things. The increasing technical sophistication of the world, combined with historically low numbers of science, technology, engineering and math (STEM) graduates at best fails to honor that history. And, at worst, threatens to severely limit America's future."—Ralph Loura, Chief Information Officer, The Clorox Company
"In the past few years I have hired many deeply technical people. The vast majority of resumes for my most technical jobs come from graduates of colleges in India and China. It is clear to me that we are not preparing American students with the skills that high tech employers deem necessary."—John Halamka, Chief Information Officer, Beth Israel Deaconess Medical Center, Professor, Harvard Medical School
"When I talk to high school and college students I find the connection of skills learned in math and science to skills used in work, and in life, is missing.  Educators need to make this connection – how does a lab in science relate to work and life? How does calculus relate? These lack of connections are a serious gap in our education system."—Nancy Newkirk, Chief Information Officer, International Data Group
 "Information technology plays a pervasive and critical role in driving business capabilities and enabling corporate strategies. In order for American industry to sustain its renowned capacity to innovate, it must have a workforce equipped to develop and apply future generations of advanced information technologies."—James Nanton, Senior Vice President, Chief Information Officer, Hanesbrands, Inc.
"The American educational system has lost touch with the reality of providing people with the practical skills and competencies required for young professionals to add meaningful value to our corporations. America needs to rethink how we prepare young people to have meaningful careers that are both financially and intellectually rewarding."—Larry Bonfante, Chief Information Officer, The United States Tennis Association
"One of the most difficult roles I have as a chief information officer is finding and recruiting talent. In a growing business, with average turnover rates, I run at a constant talent deficit because I cannot find people with the skills I need to the job openings I have. If the American education system cannot produce a work force with the appropriate skills then these jobs will be filled by global providers. The need to focus on creating career-ready individuals is not an educational imperative. It is an economic imperative."—Gary King, Executive Vice President, Chief Information Officer, Chico's,Inc.
"The K-12 years are critical foundational years that "plant the seed" for a desire to learn, to teach vital study and research habits, to develop skill sets and to discover areas of interest and proclivity.  These are pivotal years that work to shape the "whole" person. The K-12 educational phase is also the ideal period to generate interest, desire and passion for technology. Sadly, more and more of our underserved demographic groups are participating as "consumers" of technology, versus "developers" or "innovators" of such."—Gina C.Tomlinson, Chief Technology Officer, City and County of San Francisco
"I became astutely aware that America had a problem communicating and getting children interested in technology based on an experience I had with my middle school-aged daughter who told me one day, 'Dad, I am terrible in technology'. The first thing I told her, partly kiddingly, was not to say that in public too loudly, as that would not look good for Dad since his job is heading a technology group!  But it illustrated a problem our country has: most children are not being exposed to the possibilities of technology and how the field could be interesting, challenging and great job opportunities for them and that they should not have any fears about being able to utilize technology in many ways since they already use it far more than they comprehend."—Michael Gabriel, Executive Vice President, Chief Information Officer, Home Box Office
"The historical position of the United States as a global technology innovator has brought us prosperity and growth. These will dry up quickly, however, if our country does not produce a steady supply of thought leaders who are able to compete in the global technology marketplace. As our world shifts more and more from atoms to bits as the currency of economic growth, America will be left behind if we are not able to compete as global innovators.  As a result, we will soon find ourselves handing our global economic leadership over to a new set of leaders, and along with it, our ability to determine our own future and control of our own destiny. The United States must make profound, wholesale changes to our education system in a way that emphasizes science, technology, engineering and math (STEM) and encourages and motivates students to excel in these critical areas. If we fail to do so, we will lose our global competitiveness."—Steve Mills, Chief Information Officer, Rackspace Hosting Inc.
"'Survival of the fittest' has shaped the evolution of our species for hundreds, thousands, even millions of years. In the 21st century business context, the fittest are those with the ability to think critically, solve problems, innovate and collaborate effectively with one another. If we fail to equip our children with these skills through significant enhancements to our education systems, how will they ever survive."—Bill Schlough, Senior Vice President, Chief Information Officer, San Francisco Giants