The UCSF AIDS Health Project Guide to Counseling: Perspectives on Psychotherapy, Prevention, and Therapeutic Practice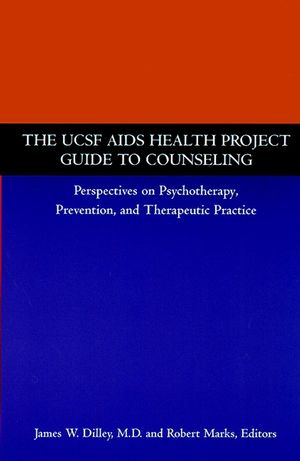 The UCSF AIDS Health Project Guide to Counseling: Perspectives on Psychotherapy, Prevention, and Therapeutic Practice
ISBN: 978-0-787-94194-9
Nov 1998, Jossey-Bass
456 pages
Description
A Guide for Counselors in the AIDS Community

This practical and state-of-the-art compedium is a rich resource that should be a 'must read' for every health professional working in the field of HIV. . . . The book is bound to instantaneously become the standard against which other books in the field will be judged.
--Michael Shernoff, editor of The Second Decade of AIDS: A Mental Health Practice Handbook and Counseling Chemically DepAndent People with HIV Illness

Highlighting the work of pioneers in the field, this important book is a comprehensive resource for professionals and volunteers working in the HIV epidemic. Now that the epidemic has been with us for more than a decade, researchers and clinicians have had the opportunity to explore the results of the AIDS virus--see the populations affected, note the medical and emotional issues faced by those infected, and think about ways to help. This anthology offers a wealth of practical information and innovative advice. The authors address the therapeutic challenges of treating this population and offer guidance for dealing with issues such as countertransference, grief management, multiple loss, and assisted suicide. The book also describes specific treatment techniques for working with clients with HIV and dual diagnoses such as substance abuse and psychiatric disorders.
Part I: Risk and Behavior: Helping Clients Remain Uninfected.

1. Harm Reduction and Client-Centered Counseling.

2. Counseling and Testing: Behavior Change and Mental Health.

3. Behavior Change Theory and HIV Prevention.

4. Moral and Psychological Development.

5. Prevention and Culture: Working Downhill to Change HIV Risk Behavior.

6. Substance Use Case Management and Harm Reduction Guide.

Part II: Transformation and Psychotherapy: Helping Clients Live with HIV.

7. Disease as an Agent of Transformation: A Survey of Psychological Approaches.

8. The Role of Psychotherapy in Coping the HIV Disease.

9. HIV Disease over the Long Haul: Hope, Uncertainty, and Survival.

10. Beyond Stereotypes: Stigmas and the Counseling Process.

Part III: Distress and Disorder: Helping Clients with Psychiatric Conditions.

11. Anxiety and Depression: Mood and HIV Disease.

12. The Clinical Management of AIDS Bereavement.

13. Personality Disorders and HIV Disease: The Case of the Borderline Client.

14. The Wild Care of Triple Diagnosis: HIV, Mental Illness, and Substance Abuse.

15. The Diagnosis and Management of HIV-Related Organic Mental Disorders.

Part IV: Therapeutic Practice and Countertransference: Personal Challenges for Therapists.

16. Present in the Balance of Time: The Therapist's Challenge.

17. Making Difficult Decisions: Suicide and AIDS.

18. Multiple Loss and the Grief of Working in the Epidemic.
"This practical and state-of-the-art compAndium is a rich resource that should be a ?must read' for every health professional working in the field of HIV.... The book is bound to instantaneously become the standard against which other books in the field will be judged." (Michael Shernoff, editor of The Second Decade of AIDS: A Mental Health Practice Handbook and Counseling Chemically Dependent People with HIV Illness)

"This is a startling book which eloquently presents insight and guidance on all levels of counseling around HIV issues.... Thorough, articulate, practical, and shows a depth of understanding which can only emerge at the confluence of excellent academia and extensive experience." (Lorraine Sherr, Churchill Fellow, Royal Free Hospital School of Medicine, University College London Medical School)

"This volume is authored and compiled by some of the most experienced and thoughtful authorities in the field. In its detailed consideration of the behavioral aspects of the transmission and the mental health consequences of HIV infection, this volume provides an invaluable and welcome resource." (Richard W. Price, chief, neurology service, San Francisco General Hospital and professor of neurology, University of California San Francisco)