The Ubiquitin-Proteasome System and Disease, Volume 4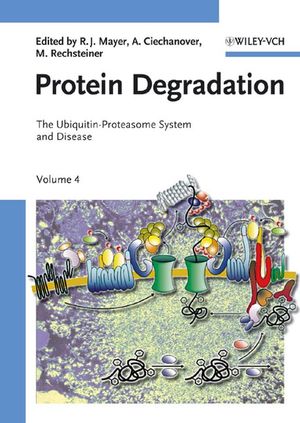 The Ubiquitin-Proteasome System and Disease, Volume 4
ISBN: 978-3-527-62023-4
Dec 2007
258 pages
Description
This final volume in the series focuses on malfunctions of the ubiquitin-proteasome system and their role in human disease.
The editors and authors represent unmatched expertise, comprising virtually all the top scientists in the field, including the pioneers of protein degradation research.
From the contents:
* Ubiquitin and cancer
* Ubiquitin and liver cancer
* Muscle atrophy
* Aggresomes and human disease
* Parkin and neurodegeneration
* Chronic neurodegenerative diseases
* Parkinson's disease
* Ubiquitin and viruses
* Druggability of the ubiquitin-proteasome system
Required reading for molecular and cell biologists, as well as physiologists with an interest in the topic.
Ubiquitin signaling and cancer pathogenesis
Regulation of the p53 tumor-suppressor protein by ubiquitin and ubiquitin-like molecules
The ubiquitin-proteasome system in Epstein-Barr virus infection and oncogenesis
HECT ubiquitin-protein ligases in human disease
Ubiquitin-independent mechanisms of substrate recognition and degradation by the proteasome
Endoplasmic reticulum protein quality control and degradation
Interactions between viruses and the ubiquitin-proteasome system
The ubiquitin-proteasome system in Parkinson's disease
The molecular pathway to neurodegeneration in parkin-related Parkinsonism
Parkin and neurodegeneration