The Ultimate Book of Business Skills: The 100 Most Important Techniques for Being Successful in Business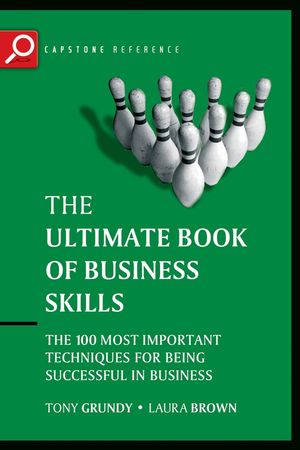 The Ultimate Book of Business Skills: The 100 Most Important Techniques for Being Successful in Business
ISBN: 978-1-841-12547-3
Feb 2004, Capstone
320 pages
Description
There is a bewildering array of choices facing all managers, whether newly appointed or experienced business hands. No matter how much experience you have, everyone can make mistakes. The Ultimate Book of Business Skills points the way for anyone in a business role. It puts the essential techniques for running a business, managing a team and making informed choices about strategy straight into the hands of the people who need them.

The Ultimate Book of Business Skills is a great addition to the Capstone Reference series. It features a user-friendly format with real-life examples designed to transform anyone into a rounded businessperson with an impressive range of skills-based knowledge at their fingertips.
1. Introduction.
What is the Essence of Management?
2. Strategy Skills.
Acquisitions Appraisal.
Acquisitions and Deal-making.
Alliances.
Competitor Awareness.
Divestment.
Economic Awareness (Macro).
Economic Awareness (Micro).
Global Awareness.
Helicopter Thinking.
Regulatory Awareness.
Risk and Uncertainty Analysis.
Storytelling.
Strategic Thinking.
3. Marketing Skills.
Brand Management.
Customer Awareness.
Life-cycle Management.
Market Awareness.
Market Development.
Market Research.
Product Development.
Selling.
4. Commercial Management Skills.
Business Cases.
Business Planning.
Contract Management.
Margin Management.
Market Segmentation.
Negotiating.
Performance Analysis.
Project Appraisal.
Targeting Goals.
Tendering.
5. Operations Skills.
Acquisition Integration.
Benchmarking.
Buying.
Controlling.
Information Collection.
IT Awareness.
Outsourcing.
Process Management.
Resource Management.
Technology Awareness.
6. Finance Skills.
Budgeting.
Cash-flow Management.
Cost Management.
Credit Control.
Financial Awareness.
Financial Planning.
Forecasting.
Turnaround.
Understanding Company Accounts.
Value Management.
7. Leadership Skills.
Chairing.
Change Management.
Coaching.
Direction Setting.
Empathizing.
Energizing.
Facilitation.
Listening.
Motivating.
Policy Setting.
Political Awareness.
Stakeholder Management.
Summarizing.
8. Organizational Skills.
Cross-cultural skills.
Delegation.
Influencing.
Interviewing.
Networking.
Organizational Design.
Organization and People Planning.
Performance Appraisal.
Recruiting.
Report Writing.
Teamworking.
Training.
9. Problem-solving Skills.
Alien Thinking.
Brainstorming.
Building.
Challenging.
Creativity.
Imagination.
Option Generation.
Problem Diagnosis.
Questioning.
10. Self-management Skills.
Action Planning.
Being Interviewed.
Drive.
E-mail Management.
Energy Management.
Learning.
Presentations (Making Them).
Prioritization.
Proactivity.
Self-awareness.
Self-development.
Stress Management.
Time Management.
11. Some Case Studies Linked to the 100 Business Skills.
12 Conclusion.
References.
Index.
"…A good solid look at management today..." (Mothers@work, 2 March 2004)
"…What you need is The Ultimate Book of Business Skills, a key business reference manual for newly appointed managers and executives…" (Blackpool Gazette, 27 February 2004)
"… represents a golden opportunity to ensure you are not deficient in any vital areas … Well worth the price." (Reading Chronicle, 11 March 2004)