The Ultimate Money Guide for Bubbles, Busts, Recession and Depression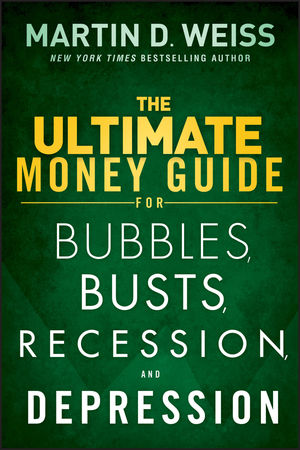 The Ultimate Money Guide for Bubbles, Busts, Recession and Depression
ISBN: 978-1-118-01134-8
Feb 2011
304 pages
Description
Updated version of the bestselling book on how to grow and protect wealth in difficult economic times
Having an effective financial plan has always been important; today, it's crucial. In The Ultimate Money Guide for Bubbles, Busts, Recession, and Depression—the updated and revised edition of the bestseller, The Ultimate Depression Survival Guide—author Martin D. Weiss shows readers how to create a safe and effective financial plan for today's unpredictable economic environment.
Explains why the U.S. economy continues to slump, and how persistently high unemployment and increasing government spending could lead to a far worse, double-dip recession
Details how investors are missing opportunities by failing to look at overseas investments, specifically in Asia and Latin America
Reveals what everyone should be doing now to protect their savings, investments, and jobs
The Ultimate Ultimate Money Guide for Bubbles, Busts, Recession, and Depression answers the questions readers have about the new challenges of the "new normal," while also offering strategies to cope with the credit crunch, housing bust, and decline of the U.S. dollar.
Introduction.
Chapter 1: Why the Tough Times Are Just Beginning!
Chapter 2: The Government Declares War on the Financial Crisis.
Chapter 3: Wall Street Deceptions, Cover-Ups, and Lies.
Chapter 4: Housing: How to Escape the Greatest Bust of All Time.
Chapter 5: Common Stocks: How to Avoid Big Risks and Boost Returns.
Chapter 6: How Safe Is Your Bank?
Chapter 7: How to Find Safe Insurance Companies.
Chapter 8: How to Shop for the Best Life Insurance.
Chapter 9: How to Find the Best Annuities.
Chapter 10: The Safest and Most Liquid Place for Your Cash.
Chapter 11: All-Weather Investments for the Best and the Worst of Times.
Chapter 12: How to Profit Directly from a Market Decline.
Chapter 13: How to Continue Making Money Even with the Worst Disasters.
Chapter 14: When to Buy the Best Bargains of the Century.
Chapter 15: Bonds: Your First Great Income Opportunity.
Chapter 16: Dividends: Your Second Great Income Opportunity.
Chapter 17: The Great Fork in the Road: Inflation or Deflation?
Chapter 18: The Demise of the Dollar?
Chapter 19: The Foundation for Recovery.
Chapter 20: Future Fortunes.
Notes.
Acknowledgments.
About the Author.
Index.