The Unauthorized Guide To Doing Business the Alan Sugar Way: 10 Secrets of the Boardroom's Toughest Interviewer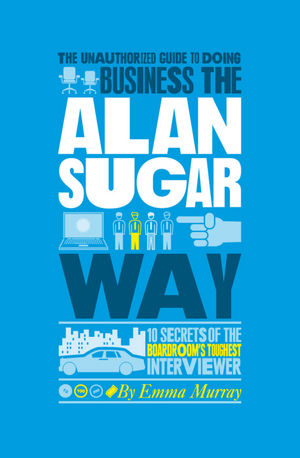 The Unauthorized Guide To Doing Business the Alan Sugar Way: 10 Secrets of the Boardroom's Toughest Interviewer
ISBN: 978-0-857-08085-1 June 2010 Capstone 204 Pages
Description
Alan Sugar is a business legend. When it comes to business, Sugar is both feared and fearless. Shrewd businessman, inspirational figure and sweet-talking star of The Apprentice, this man knows how to strike a deal.
The Unauthorized Guide to Doing Business the Alan Sugar Way draws out the universal lessons from Alan Sugar's remarkable success and identifies 10 strategies that can be applied to any business or career:
Don't push or shove
Start a revolution
Know your customer
Stay true to your values
Learn from your mistakes
Drive a hard bargain
Invest in the right people
Lead from the front
Win as a team
Hire in haste, repent at leisure
Want to be the best? The secrets of phenomenal success are in your hands.
Check out the other Unauthorized Guides in this series: Richard Branson; Duncan Bannatyne; Jamie Oliver; Bill Gates; and Philip Green.
Table of contents
Acknowledgements.
The Life and Times of Alan Sugar.
One: Don't Push or Shove.
With a reputation for being belligerent, Alan Sugar may not take any prisoners or suff er fools lightly, but one thing is for sure – he is no bully.
Two: Start a Revolution.
As a young entrepreneur, Sugar blasted onto the scene, crashed through corporate and class barriers, and revolutionized the business world forever.
Three: Know Your Customer.
A natural wheeler and dealer, Sugar has built up an empire from scratch by instinctively knowing exactly what his customer wants.
Four: Stay True to Your Values.
Alan Sugar has based his whole career and personal life around a core set of traditional values, to which he credits his success.
Five: Learn from Your Mistakes.
From business mogul to football chairman to media personality, Sugar has had his fair share of ups and downs, but he has managed to recover from the troubled times with grace and dignity.
Six: Drive a Hard Bargain.
As one of the world's toughest negotiators, Sugar has never been shy of driving a hard bargain to get what he wants.
Seven: Invest in the Right People.
Sugar considers people to be a company's most important asset and values loyalty and honesty above all else.
Eight: Lead from the Front.
A born leader, Sugar motivates and inspires his team by using clear, direct communication, coupled with an inclusive management style.
Nine: Win as a Team.
Both a leader and a team player, Sugar understands the importance of working as a united front in order to achieve that all-important goal.
Ten: Hire in Haste, Repent at Leisure.
Sugar uses clever interviewing tactics to test and challenge his prospective employees. His hiring model may be tough, but it always gets him the right person for the job.
How to Negotiate the Alan Sugar Way.
The Last Word.
Notes.
Index.