The Unauthorized Guide to Doing Business the Simon Cowell Way: 10 Secrets of the International Music Mogul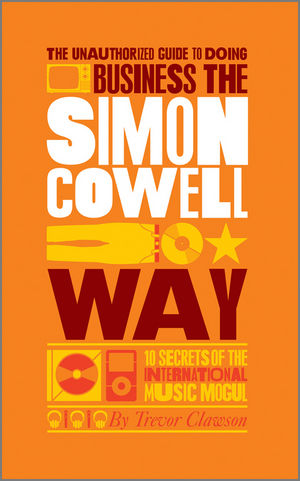 The Unauthorized Guide to Doing Business the Simon Cowell Way: 10 Secrets of the International Music Mogul
ISBN: 978-0-857-08128-5
Jan 2011, Capstone
216 pages
Description
From a job in the mail room at EMI Music Publishing Cowell rose through the ranks swiftly and after becoming a record producer at the firm, left to set up his own company. Following the collapse of his first business and a time at BMG, Cowell went on to pioneer the Popstars TV talent show, and subsequently co-produce Pop Idol and more recently The X Factor. As a music producer he has achieved sales of over 25 million albums, over 70 top 30 records, and 17 Number 1 singles. His band 'Westlife' has achieved an impressive 10 Number 1 hits alone.

The Sunday Times Rich List recently estimated that he earned £33.5m in one year alone, thanks to the global success of the 'Pop Idol' brand.

 The 10 Secrets of the International Music Mogul are:
Work Your Way Up – get to know your industry

Don't Be Defeated – how to overcome set backs in business
Grab Opportunities – respond to the market
Know Your Market – and consistently produce the product they want
Think Differently – take your product and spin it in different formats
Get Your Name on the Credits – and reap the rewards
Don't Look Back – learn from missed opportunities but keep moving forwards
Say it How It Is – straight talking saves time in business
Build a Personal Brand – and be respected for what you do well if nothing else
Use Your Contacts – there is no shame to pulling strings in business
The Life and times of Simon Cowell.
One: Know Your Industry.
Simon Cowell's status as one of the most powerful men in the record industry has been achieved on the back of a recent run of TV shows, but he spent many years learning the music business from the bottom up.
Two: Know Your Audience.
Successful marketing depends on a close and intimate knowledge of your target consumers and what they want. Over the years, Cowell has honed his market research methods.
Three: Harness the Power of the Crowd.
With X Factor, American Idol and Got Talent, Cowell has harnessed the power of the crowd to find and develop bankable artists.
Four: Think Big, Think Lateral.
Cowell's latter-day business model is elegantly simple but the execution of his plans has required ambitious thinking and a strategy that spans music, television and new media.
Five: Develop International Formats.
Successful television formats can be sold around the world and Cowell has been quick to exploit the potential of his own creations.
Six: Work with Partners.
Despite his public image as a freewheeling maverick, Cowell's business success has been based on long-term collaboration with partners.
Seven: Tell it Like it Is.
Cowell's talent for plain speaking has served him well as a television personality and it is not an act. The Simon Cowell brand reflects his approach to life and business.
Eight: Manage the Talent.
The acts signed to Cowell's record label represent some of his most valuable assets. He takes care to steer their careers in a successful direction.
Nine: Learn to Roll with the Punches.
Cowell has seen his fair share of setbacks but he has always bounced back and moved his career forward.
Ten: Get Your Name on the Title.
By assuming a leadership role and owning assets Cowell has been able to do things his own way while earning a lot of money.
How to do Business the Simon Cowell Way.
The Last Word.
Notes.
Index.
About the Author.