The United States and Imperialism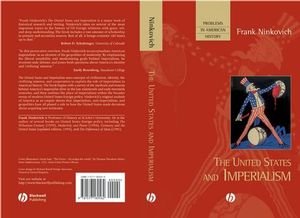 The United States and Imperialism
ISBN: 978-1-577-18056-2 March 2001 Wiley-Blackwell 320 Pages
Description
The United States and Imperialism uses concepts of civilization, identity, the civilizing mission, and cooperation to explain the role of imperialism throughout American history. Ninkovich's original analysis of America as an empire shows how imperialism, anti-imperialism, and geopolitics have all played a role in how the United States made decisions when seeking new territories.
Table of contents
Introduction.
1. Imperialism and National Identity in the 1890s.
2. Failed Expectations: The Civilizing Mission in the Philippines.
3. America's Caribbean Empire.
4. The Modernization of China and the Diplomacy of Imperialism.
5. Imperialism and Anti-Imperialism in America's World Policies.
Conclusion: Beyond Imperialism: The Empire of Modernity.
Index.
Reviews
"Frank Ninkovich's
The United States and Imperialism
is a major work of historical research and writing. Ninkovich takes on several of the most important topics in the history of US foreign relations with grace, wit, and deep understanding. The book includes a vast amount of scholarship in primary and secondary sources. Best of all, it brings centuries' old issues up to date."
Robert D. Schulzinger, University of Colorado
<!--end-->"In this provocative overview, Frank Ninkovich reconceptualizes American imperialism 'as an element of the geopolitics of modernity.' By emphasizing the liberal sensibility and modernizing goals behind imperialism, he reorients stale debates and poses fresh questions about America's identity and 'civilizing' mission." Emily Rosenberg, Macalester College

"Ninkovich provides an innovative and exciting synthesis." Choice

"Ninkovich presents a fresh interpretation of the contours of the American empire and places the experience of imperialism within the larger context of modern US foreign policy. This study is to be commended for its clarity, conceptual sophistication, and eloquence. It is highly recommended for classroom adoption and equally suited for undergraduate and graduate discussions" American Nineteenth Century History Journal
What's New
Provides survey of the ways in which the United States acquired, administered, and abandoned its various imperial possessions.

Offers a new interpretation of how and why America became an imperialist power.

Incorporates notions of imperialism, anti-imperialism, and geopolitics into American foreign policy decision making.