The Unofficial Guide to Landing a Job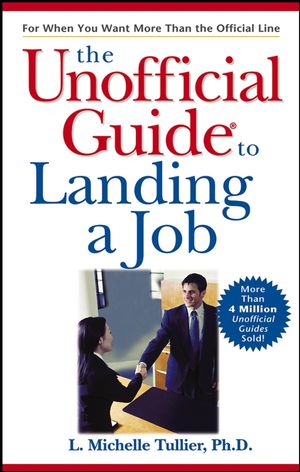 The Unofficial Guide to Landing a Job
ISBN: 978-0-764-57413-9
Jan 2005
504 pages
Product not available for purchase
Description
The inside scoop . . .for when you want more than the official line

Today's job market is more competitive than ever. How can you distinguish yourself from the competition and get the job you really want? The Unofficial Guide? to Landing a Job walks both new and veteran job hunters through every aspect of landing a great position, from understanding how hiring decisions are made to evaluating and negotiating offers--and everything in between.

Whether you're new to the job market, changing careers, or seeking a new position after a layoff or termination, this all-inclusive guide covers all the bases--from defining your niche and writing your resume to developing top-notch communication skills, researching potential employers, and even bouncing back from rejection. Packed with up-to-date information and tips and tricks you won't find anywhere else, it delivers all the know-how you need to make yourself the top candidate, knock 'em dead in the interview--and get hired!
* Vital Information on hiring decisions that other sources don't reveal.
* Insider Secrets on what employers are looking for, avoiding the biggest resume mistakes, and negotiating the best offer.
* Time-Saving Tips on getting organized, developing a job-search strategy, and preparing powerful self-marketing tools.
* The Latest Trends in finding a job, from the advertised and hidden marketplaces to networking, recruiters, and using the Internet.
* Handy Checklists and Charts to help you prepare for an interview, clinch the deal, and manage your career.
Contents.
About the Author.
Introduction.
Part I: What You Need to Know About Getting Hired.
Chapter 1: Twenty Secrets of Successful Job Seekers.
Chapter 2: How Employers Think.
Chapter 3: Marketing You, the Product.
Chapter 4: Your Marketing Plan's Secret Weapon.
Part II: Gaining the Competitive Edge—How to Market Yourself.
Chapter 5: Résumés.
Chapter 6: Job Search Correspondence.
Chapter 7: Where Will You Find Your Job?
Part III: Preparing Your Self-Marketing Tools.
Chapter 8: Landing a Job through the Formal Marketplace.
Chapter 9: Networking.
Chapter 10: Online Job Hunting.
Chapter 11: Preparing for Interviews.
Chapter 12: Types of Interviews and How to Handle Them.
Part IV: Landing the Job and Moving Forward.
Chapter 13: Typical and Not-so-typical Interview Questions.
Chapter 14: Interview Curve Balls.
Chapter 15: Clinching the Deal.
Appendix: Action Verbs and Sample Résumés.
Index.
| | |
| --- | --- |
| Download Bonus Chapter 1: Getting Organized & Planning Your Action | Download |
| Download Bonus Chapter 2: Honing Your Communication Skills and Tools | Download |
| Download Bonus Chapter 3: More Self-Marketing Tools | Download |
| Download Bonus Chapter 4: What to Do When Nothing Seems to Work | Download |
| Download Bonus Chapter 5: After Landing | Download |
| Download Bonus Chapter 6: Passing Muster: Tests, Observation, and Other Ways You'll Be Assessed | Download |
| Download Bonus Chapter 7: Resource Guide | Download |
| Download Bonus Chapter 8: Recommended Reading List | Download |
| Download Bonus Chapter 9: Professional and Trade Associations | Download |