The Unofficial Guide to Microsoft Office Word 2007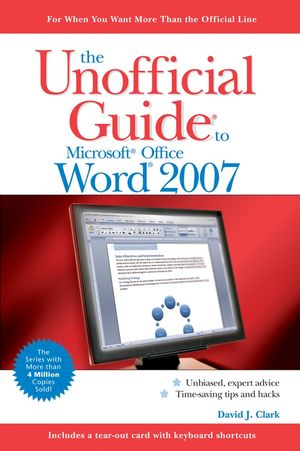 The Unofficial Guide to Microsoft Office Word 2007
ISBN: 978-0-470-37743-7
Feb 2008
573 pages
Product not available for purchase
Description
The inside scoop... for when you want more than the official line!

Microsoft Office Word 2007 may be the top word processor, but to use it with confidence, you'll need to know its quirks and shortcuts. Find out what the manual doesn't always tell you in this insider's guide to using Word in the real world. How do you use the new Ribbon? What's the best way to add pictures? From deciphering fonts to doing mass mailings, first get the official way, then the best way from an expert.

Unbiased coverage on how to get the most out of Word 2007, from applying templates and styles to using new collaboration tools

Savvy, real-world advice on creating document for the Web, saving time with macros, and punching up docs with SmartArt.

Time-saving techniques and practical guidance on working around Word quirks, avoiding pitfalls, and increasing your productivity.

Tips and hacks on how to customize keyboard shortcuts, how to embed fonts, and quick ways to get to Help.

Sidebars and tables on TrueType versus Printer fonts, World 2007 View modes, and tabs in Word 2007.

Watch for these graphic icons in every chapter to guide you to specific practical information. Bright Ideas are smart innovations that will save you time or hassle. Hacks are insider tips and shortcuts that increase productivity. When you see Watch Out! heed the cautions or warnings to help you avoid common pitfalls. And finally, check out the Inside Scoops for practical insights from the author. It's like having your own expert at your side!
Introduction.
I The Basics.
1 Get In and Out.
Starting Word.
The Word environment.
Opening documents.
Searching for a document.
Quitting Word.
Just the facts.
2 Work with Documents.
Document types.
Working with documents from previous versions of Word.
Saving and closing your new document.
AutoRecover.
Just the facts.
3 Write and Revise.
Using basic editing tools.
Copying, moving, and deleting text.
Finding and replacing text.
Checking spelling and grammar.
Tweaking AutoCorrect so it doesn't annoy you.
Just the facts.
4 View and Navigate.
Selecting your document view.
Using Zoom to size your document view.
Scrolling through your document.
Using Go To.
Working with windows.
Just the facts.
II Get the Look Just Right.
5 Get the Look Faster with Templates and Styles.
Creating your document using a template.
Creating your own custom template.
Using Quick Styles.
Choosing a style set.
Working with styles.
Just the facts.
6 Format Your Characters.
Selecting fonts.
How to change a font style or special effect.
Selecting font sizes.
Applying color to text.
Character spacing.
Working with character styles.
Just the facts.
7 Format Your Paragraphs.
Selecting paragraph format settings.
Working with paragraph styles.
Working with lists.
Just the facts.
8 Format Your Pages.
Working with Document Themes.
Setting up your page.
Laying out the page.
Inserting pages.
Just the facts.
III Go Public with Your Documents.
9 Print Your Document.
Printing with Quick Print.
Setting printing options.
Working with Print Preview.
Printing your documents.
Just the facts.
10 Create Documents for the Web.
Working in Web Layout view.
Working with hyperlinks.
Creating Web pages.
Setting Web Options.
Just the facts.
11 Send Your Documents to Others.
Creating a blog entry.
Sending your document as e-mail.
Sending your document as an attachment.
Sending your document via fax.
Embedding fonts to preserve your document's look.
Working with Compatibility Mode.
Sending your document in other file formats.
Just the facts.
12 Collaborate with Others.
Reviewing your document.
Comparing and combining document versions.
Sharing a document workspace.
Online collaboration on the Web.
Just the facts.
13 Create Forms.
Creating an electronic form.
Creating a printed form.
Just the facts.
14 Create E-Mail Blasts, Mass Mailings, and Directories.
How a mail merge works.
Using the Mail Merge Wizard.
Creating a form letter.
Creating an e-mail blast.
Creating envelopes and labels.
Working with rules.
Creating a directory.
Just the facts.
IV Add Tables to the Mix.
15 Create and Manage Tables.
Creating a table.
Moving and deleting tables.
Formatting tables.
Working with cells, rows, and columns.
Just the facts.
16 Advanced Table Features.
Converting between tables and text.
Advanced table data manipulation.
Advanced table formatting.
Just the facts.
V Punch It Up with Graphics and Page Design.
17 Illustrate Your Point with Shapes and SmartArt.
Create illustrations using shapes.
Changing shapes and lines.
Working with shape styles.
Formatting shapes.
Taking advantage of SmartArt graphics.
Just the facts.
18 Add Charts to Present Your Data.
Creating charts.
Working with chart data.
Formatting your charts.
Just the facts.
19 Adding Pictures to Your Document.
A word about photographs, clip art, and copyright.
Adding pictures to your document.
Adding clip art to your document.
Just the facts.
20 Advanced Text Formatting.
Making an impact with text boxes.
Using building blocks.
Inserting symbols and special characters.
Adding equations to your document.
Using WordArt for visual impact.
Adding a drop cap to add sophistication.
Just the facts.
VI Special Features.
21 Control Issues.
Restrict access to your documents with RMS.
Inspect your document for hidden information.
Adding a digital signature to a document.
Encrypt your document.
Protecting or encrypting your document when you save it.
Just the facts.
22 Create Reference Aids.
Creating a table of contents.
Adding footnotes and endnotes.
Adding citations and a bibliography.
Adding captions.
Using cross-references.
Creating an index.
Creating a table of authorities.
Updating a table of authorities.
Just the facts.
23 Save Time with Macros.
Macros and security.
Recording a macro.
Working with macros in Visual Basic.
Smart tags.
Just the facts.
VII Appendixes.
A Glossary.
B Resource Guide.
Resources from Microsoft.
Other Web sources.
Recommended Reading List.
C Word 2003 to Word 2007 Roadmap.
Help from Microsoft on making the jump from Word 2003 to Word 2007.
New features in Word 2007.
Features removed, replaced, or hidden in Word 2007.
Word 2003/2007 command conversion quick reference.
Index.