The Urban Order: An Introduction to Urban Geography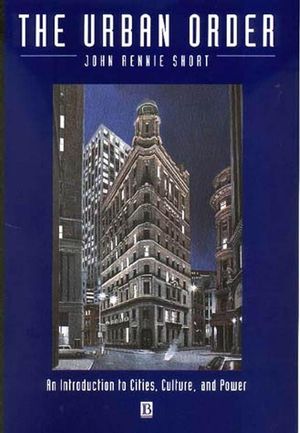 The Urban Order: An Introduction to Urban Geography
ISBN: 978-1-557-86360-7
Aug 1996
512 pages
Description
Traditional models, radical interpretations and post-modern concerns are synthesized in this accessible and evocative account of the central issues of contemporary urbanism and city life.
1. Introduction.
Part I: The City and Economy:.
2. Cities and Economic Development.
3. The Urbanization of the Economy.
4. The City and the Global Economy.
5. The Political Economy of Urbanization.
6. Capital, Labor and the City; Case Study 1: Part 1.
7. Capital, Labor and the City: Case Study 1: Part 2.
8. Yuppies, Yuffies and the New Urban Order: Case Study II.
Part II: The City and Society:.
9. The Housing Market.
10. The Social Arena.
11. Life in the City.
12. The Political Arena.
13. Residential Mobility in the City: Case Study III.
14. Gender, Space and Power: Case Study IV.
15. Race, Ethnicity and the City: Case Study V.
Part III: The Production of the City:.
16. City as Investment.
17. City as Text.
18. City Images.
19. Reconstructing the Image of a City: Case Study VI.
20. Conflict and Compromise in the Built Environment: Case Study VII.
21. Postscript: Barcelona.
Concluding Comments.
Index.
"The strengths of this text are its breadth of coverage of the main debates in the field, the author's continuing and lively engagement with his subject and his genuine attempts to cross paradigms in discussion of what constitutes different understandings of urban orders. The comparative material... is a welcome change from the usual northern hemispheric focus of texts written in English."
Urban Policy and Research
"The first thing to say about this text is that it is clearly aimed at undergraduate students... Short and his publishers have put in a great deal of effort to ensure the book's accessibility. At a time when the demands placed upon students are growing, the ease with which information can be traced is an increasingly important consideration. This textbook achieves this remarkably effectively." Paul Teedon, The Geographical Journal.
"This is an excellent book and has relevance for all academic fields concerned with urban dynamics. As an introduction to, and overview of, urban events during this last century it is thorough and presented in a very readable and accessible form." Lone Poulsen, University of Witwatersrand


A triple perspective - the city and economy; the city and society; the city and power.


Includes chapters on race, ethnicity and the city; and on gender, space and power.


Unites political, economic and cultural perspectives.


Examples range from all over the world.


Well and accessibly written; student-friendly approach.


Full and detailed guides to further reading on all subjects covered.


Extensively illustrated with photographs, maps, figures and plans.