The Use of the Polygraph in Assessing, Treating and Supervising Sex Offenders: A Practitioner's Guide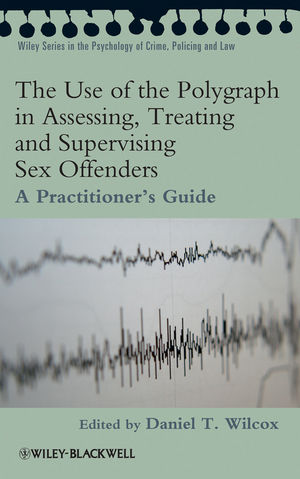 The Use of the Polygraph in Assessing, Treating and Supervising Sex Offenders: A Practitioner's Guide
ISBN: 978-0-470-74224-2 April 2009 358 Pages
Description
The Use of the Polygraph in Assessing, Treating and Supervising Sex Offenders presents an in-depth examination of the contribution that polygraph testing can make to offender treatment programmes, with a particular focus on sexual offenders.
Features coverage of a very timely issue – the British Psychological Society has convened a working party to assess the contribution of the polygraph to forensic work
Potential for greater book demand with the Home Office's current consideration of research on polygraph testing with a view to increasing its usage
Primary focus on sexual offenders
About the Editor.
List of Contributors.
Series Preface.
Preface.
Foreword by Eric J. Holden, Past President, American Polygraph Association and Chair, APA PCSOT Committee, 2007-2009
1 Overview: Opportunities and Responsibilities (Daniel T. Wilcox).
2 The Clinical Use of the Polygraph with Sex Offenders: Caveats and Considerations (David Whittingham).
3 Pre-Conviction and Post-Conviction Polygraph Testing: A Brief History (Daniel T. Wilcox and Lars Madsen).
4 The Empirical Evidence for the Value of Post-Conviction Polygraph in the Treatment and Supervision of Sex Offenders (Lars Madsen and Daniel T. Wilcox).
5 Basics of Post-Conviction Sex Offender Polygraph Testing (Daniel E. Sosnowski and Daniel T. Wilcox).
6 Case Studies in the Utility of the Polygraph (Daniel T. Wilcox, Zerine O'Keeffe and Caroline Oliver).
7 Polygraph Testing Internet Offenders (Jos Buschman and Stefan Bogaerts).
8 Risk Assessment and the Polygraph (Theresa A. Gannon, Anthony R. Beech and Tony Ward).
9 The Accuracy of Polygraphy in the Treatment and Supervision of Sex Offenders (Lars Madsen).
10 Sex Offender Polygraph Testing in the United States: Trends and Controversies (Peggy Heil and Kim English).
11 Other Post-Conviction Applications of Polygraphy (Shay Addison and Lou Crisilla).
12 Interviewing and Interrogation (J.P. Blair).
13 Alternate Technologies for the Detection of Deception (Jennifer M.C. Vendemia, Michael J. Schillaci, Robert F. Buzan, Eric P. Green and Scott W. Meek).
14 Forensic Assessment of Sexual Interest: A Review (E. Kalmus, Anthony R. Beech and B. Warberg).
Index.
""Overall, the book is both readable and informative bringing the reader up to date with current thinking and research in this area. It is a recommended read for those interested in improving their understanding of the use of the polygraph with sex offenders."" Child Abuse Review, 2010