The Vertical Transportation Handbook, 4th Edition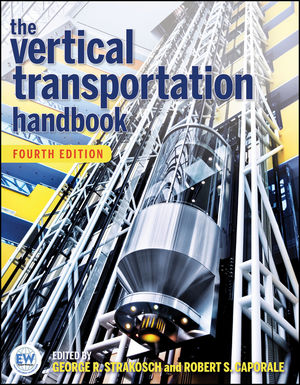 The Vertical Transportation Handbook, 4th Edition
ISBN: 978-0-470-94981-8 October 2010 624 Pages
Description
This new edition of a one-of-a-kind handbook provides an essential updating to keep the book current with technology and practice.  New coverage of topics such as machine-room-less systems and current operation and control procedures, ensures that this revision maintains its standing as the premier general reference on vertical transportation.  A team of new contributors has been assembled to shepherd the book into this new edition and provide the expertise to keep it up to date in future editions.  A new copublishing partnership with Elevator World Magazine ensures that the quality of the revision is kept at the highest level, enabled by Elevator World's Editor, Bob Caporale, joining George Strakosch as co-editor.
Preface.
List of Contributors.
1 The Essentials of Elevatoring.
2 The Basis of Elevatoring a Building.
3 Passenger Traffic Requirements.
4 Incoming Traffic.
5 Two-Way Traffic.
6 Outgoing Traffic.
7 Elevator Operation and Control.
8 Space and Physical Requirements.
9 Escalators and Moving Walks.
10 Elevatoring Commercial Buildings.
11 Elevatoring Residential Buildings.
12 Elevatoring Institutional Buildings.
13 Service and Freight Elevators.
14 Nonconventional Elevators, Special Applications, and Environmental Considerations.
15 Automated Material Handling Systems.
16 Codes and Standards.
17 Elevator Specifying and Contracting.
18 Economics, Maintenance, and Modernization.
19 Traffic Studies and Performance Evaluation.
20 The Changing Modes of Horizontal and Vertical
Transportation.
Appendix: Literature on Elevators and Escalators.
Index of Tables and Charts.
Index of Examples.
Subject Index.