The Vest Pocket Controller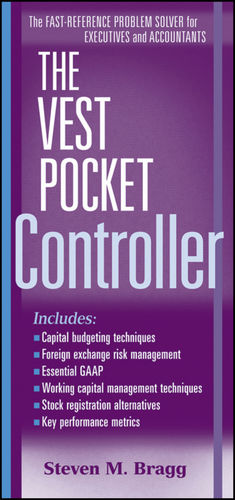 The Vest Pocket Controller
ISBN: 978-0-470-62560-6 April 2010 448 Pages
Description
The all-new fast-reference problem solver for controllers
The Vest Pocket Controller is the handy pocket problem-solver that gives today's busy executives and accountants the helpful information they need in a quick-reference format.
Whether in public practice or private industry, professionals will always have this reliable reference tool at their fingertips because it easily goes anywhere-to a client's office, on a business trip, or to an important lunch meeting.
Covers management areas a controller is likely to encounter
Easy-to-use Q & A format offering hundreds of explanations supported by a multitude of examples, tables, charts, and ratios
Other titles by Bragg: Running an Effective Investor Relations Department: A Comprehensive Guide, Accounting Best Practices, Sixth Edition, and Just-in-Time Accounting, Third Edition
Packed with practical techniques and rules of thumb for analyzing, evaluating, and solving the day-to-day problems every controller faces, The Vest Pocket Controller helps you quickly pinpoint what to look for, what to watch out for, what to do, and how to do it.
Preface.
About the Author.
Part I Accounting Standards.
One Revenue Recognition.
Two Investment Accounting.
Three Inventory Accounting.
Four Fixed Asset Accounting.
Five Debt Accounting.
Six Stockholders' Equity.
Seven Lease Accounting.
Eight Foreign Currency Accounting.
Part II Accounting Management.
Nine Closing the Books.
Ten Cash Management.
Eleven Receivables Management.
Twelve Inventory Management.
Thirteen Debt Management.
Fourteen Equity Registration.
Part III Financial Analysis.
Fifteen Financial Analysis.
Sixteen Pricing Analysis.
Seventeen Cost Reduction Analysis.
Eighteen Metrics.
Part IV Control Systems.
Nineteen Budgeting.
Twenty Capital Budgeting.
Twenty-One Control Systems.
Part V Public Company Accounting.
Twenty-Two SEC Filings.
Twenty-Three Public Company Accounting Topics.
Index.