The View From Here: Bioethics and the Social Sciences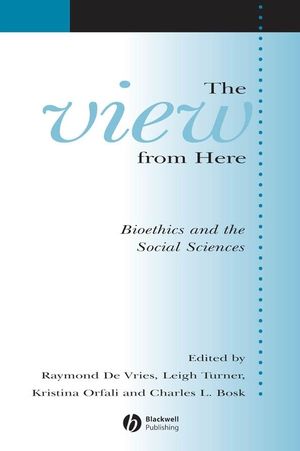 The View From Here: Bioethics and the Social Sciences
ISBN: 978-1-405-15269-3 May 2007 Wiley-Blackwell 232 Pages
Description
This book is a comprehensive exploration of the relationship between the social sciences and the appearance and growth of bioethics, and provides new analysis on how ordinary questions become "bioethical" questions.



Provides new analysis on the variations between different countries and their health systems

Questions why some bioethical issues fail to attract the attention of bioethicists

Investigates the effect of the rise of bioethics in the field of medical sociology

An essential text for medical sociologists, medical anthropologists, bioethicists, and to the increasingly large audience of those interested in the relationship between the social sciences and bioethics
1. Social Science and Bioethics: The Way Forward: Raymond de Vries, Leigh Turner, Kristina Orfali and Charles Bosk.
2. Co-ordinating 'Ethical' Clinical Trials: The Role of Research Coordinators in the Contract Research Industry: Jill A. Fisher.
3. The Many Meanings of Care in Clinical Research: Michele M. Easter, Gail E. Henderson, Arlene M. Davis, Larry R. Churchill and Nancy M. P. King.
4. The Field Worker's Fields: Ethics, Ethnography and Medical Sociology: Renée R. Anspach and Nissim Mizrachi.
5. Ethical Boundary-Work in the Embryonic Stem Cell Laboratory: Steven P. Wainwright, Clare Williams, Mike Michael, Bobbie Farsides and Alan Cribb.
6. Gift Not Commodity? Lay People Deliberating Social Sex Selection: Jackie Leach Scully, Tom Shakespeare and Sarah Banks.
7. It's Money That Matters: The Financial Context of Ethical Decision-Making in Modern Biomedicine: Adam M. Hedgecoe.
8. The Power of Ethics: A Case Study from Sweden on the Social Life of Moral Concerns in Policy Processes: Klaus Hoeyer.
9. Explaining the Emergence of Euthanasia Law in the Netherlands: How the Sociology of Law Can Help the Sociology of Bioethics: Heleen Weyers.
10. From Biopolitics to Bioethics: Church, State, Medicine and Assisted Reproductive Technology in Ireland: Orla McDonnell and Jill Allison.
11. Taking Sociology Seriously: A New Approach to the Bioethical Problems of Infectious Disease: Mark Tausig, Michael J. Selgelid, Sree Subedi and Janardan Subedi.
12. Biobanks, Bioethics and Concepts of Donated Blood in the UK: Helen Busby.
13. Embodiment and Ethics: Constructing Medicine's Two Bodies: David Armstrong.
?The diversity of papers in the collection reflect the multiplicity of ways through which social scientists can engage with (bio)ethics and provide a valuable resource for those new to the area.? (Medical Sociology , April 2009)


Provides new analysis on the variations between different countries and their health systems

Explores the profession of bioethics and its role in discussions about the means and ends of the life sciences

Questions why some bioethical issues fail to attract the attention of bioethicists

Investigates the effect of the rise of bioethics in the field of medical sociology




An essential text for medical sociologists, medical anthropologists, bioethicists, and to the increasingly large audience of those interested in the relationship between the social sciences and bioethics