The Virilio Reader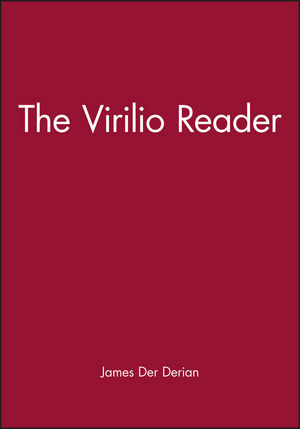 The Virilio Reader
ISBN: 978-1-557-86652-3
Oct 1998, Wiley-Blackwell
224 pages
Description
First English language collection of the writing of French social critic, Paul Virilio. This volume represents his most important work, including five new translations and an exclusive interview with Virlio conducted by the editor reflecting the diverse career of this great social commentator on life in the late twentieth century.
Acknowledgments.
Preface.
Introduction by James Der Derian.
1. Interview: Is the Author Dead?.
2. Military Space.
3. The Suicidal State.
4. The State of Emergency.
5. The Critical Space.
6. The Strategy Beyond.
7. A Travelling Shot Over Eighty Years.
8. Polar Inertia.
9. The Vision Machine.
10. The Art of the Motor.
11. The Desert Screen.
12. Continental Drift.
A Select Bibliography of Works by Paul Virilio.
Index
"... the material could not be in better editorial hands. If there is a scholar within contemporary international relations who has done as much as Virilio outside it to investigate these sort of concerns, and who has the breadth of knowledge and the linguistic and intellectual engagement to offer an overall account of Virilio's corpus, it is Der Derian. His introduction to this volume is characteristically well written, thoughtful, wryly amusing and a model of concise exposition. His interview with Virilio, which forms two chapters of the book, is both a real dialogue and at the same time an illuminating tour d'horizon of Virilio's concerns. Whether you agree or disagree, with Virilio or Der Derian or both, try this book for you will be confronted with an elegant sampling of wide and pespicacious oeuvre that deals with important and difficult issues: a Virilio reader indeed." Nicholas Rengger, University of St Andrews
* Includes five new English language translations of Virilio's work.
* Contains an exclusive interview between the editor and Virilio conducted in a Paris cafe.
* First English language compilation of this French writer whose original thinking transcended conventional wisdom in world politics and the impact of media and technology on everyday life.