The Virtual Campus: Technology and Reform in Higher Education, Volume 25, Number 5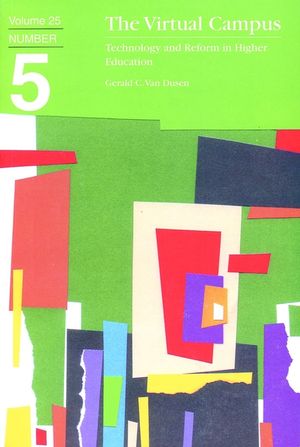 The Virtual Campus: Technology and Reform in Higher Education, Volume 25, Number 5
ISBN: 978-1-878-38077-7
Nov 1996, Jossey-Bass
200 pages
Description
"Higher education has always been seen as the curator, creator, and critic of the basic knowledge of our world. This basic knowledge is being drastically affected by its rapid transfer through the new electronic channels. The traditional world of higher education must either embrace this new virtual world or become less relevant in the value it adds to society. How effectively institutions link the tools of technology with their educational vision and mission will determine their continued success in being a primary source of education and knowledge for our society. This report on the virtual campus will help institutions engage in conversation concerning their part in the virtual world expanding around us."
--from the Foreword by Jonathan D. Fife, former series editor and director of the ERIC Clearinghouse on Higher Education

Powerful information and instructional technologies have created the virtual campus for students and teachers everywhere. More than ever, there is a call for technology to provide expanded opportunities for learners. This report offers practical recommAndations for the integration of technology into teaching, learning, and research.
Introduction.
Teaching on the Virtual Campus: New Roles, New Responsibilities.
Classroom Learning: Interaction and Interface.
Research and the New Scholarly Agenda.
Creating a Culture of Quality.
Governance and Finance Considerations.
Conclusions and Recommendations.