The Virtual Self: A Contemporary Sociology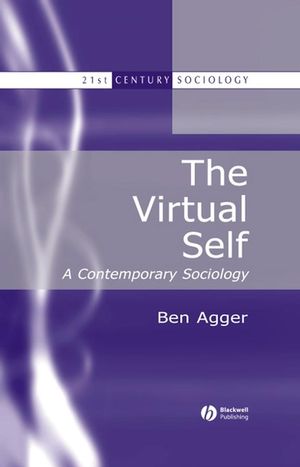 The Virtual Self: A Contemporary Sociology
ISBN: 978-0-631-21649-0 December 2003 Wiley-Blackwell 216 Pages
Description
The Virtual Self
is an engaging and exciting text that addresses issues relating to our rapidly changing society, social structure, and communication needs. In doing so, it addresses major issues in sociology that inform virtually all of a student's course work.
Introduces students to concepts of the self and society in an age of rapid technology and high speed communication
Examines the relationship between everyday life and social structure in key domains of communication, personality, work/family, leisure and entertainment, and economics
Written in a lively, engaging style for readers without a sociological background
Table of contents
Preface.
1. Everyday Life in Our Wired World.
2. Sociology's Encyclopedia.
3. Does Postmodernism Make You Mad? or, Did You Flunk Statistics?.
4. Adventures in Capitalism.
5. Girl Talk.
6. Virtually, a Sociology!.
Glossary.
References.
Index
Reviews
"Those interested in knowing more about occupations at an individual or societal level will learn much from this book, which offers a wide and forward-looking sociological perspective."
Journal of Occupational Science
"This is a bold, innovative work; a powerful study that attests to the cultural construction of the virtual and 'real' self in an often terrifying post-industrial world. Ben Agger is America's leading sociological theorist in the critical school tradition. Classical and contemporary sociological theory ignored the issues he addresses in this book: namely how the self is embedded in technology. Agger corrects this oversight, and in the process has written a book that belongs on the shelf of all serious students of self, the media, culture, and the organization of everyday life." – Norman K. Denzin, University of Illinois at Urbana-Champaign

"The Virtual Self explores the many challenges posed by 'virtuality' for ethical, political, and social analysis. Agger mobilizes a wide-ranging style of intertextual criticism that engagingly illustrates why virtual selves and network societies must become a new focus for contemporary social research. His accessible approach and conversational style make this an ideal book for courses in several different disciplines." – Timothy W. Luke, Virginia Polytechnic Institute and State University
Features
Introduces students to concepts of the self and society in an age of rapid technology and high speed communication
Examines the relationship between everyday life and social structure in key domains of communication, personality, work/family, leisure and entertainment, and economics
Written in a lively, engaging style for readers without a sociological background