The Virtual Student: A Profile and Guide to Working with Online Learners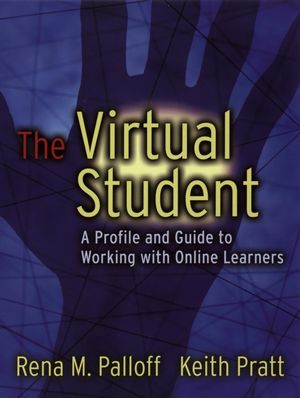 The Virtual Student: A Profile and Guide to Working with Online Learners
ISBN: 978-0-787-97119-9 June 2003 Jossey-Bass 224 Pages
Description
The Virtual Student is an essential resource for online educators working with students in higher education and training settings. The authors offer an overview of the key issues of student online learning and provide a practical guide to working with online students. The book covers a broad range of topics including learning styles, multicultural issues, evaluation, retention, and the challenging problems of plagiarism and cheating.
List of Figures, Tables, and Exhibits.
Preface.
About the Authors.
PART ONE: A PROFILE OF THE VIRTUAL STUDENT.
1. Who Is the Virtual Student?
2. The Student Side of Online Learning Communities.
3. Learning Styles.
4. Gender, Culture, Lifestyle, and Geography.
5. What the Virtual Student Needs 51
PART TWO: A GUIDE TO WORKING WITH THE VIRTUAL STUDENT: ISSUES, CONCERNS, AND STRATEGIES.
6. Designing a Good Student Orientation.
7. Time and Commitment.
8. Assessment and Evaluation.
9. Legal Issues and the Virtual Student.
10. Attrition, Retention, and Group Size.
11. Becoming Truly Learner-Focused: Best Practices in Online Teaching
RESOURCES: THE TOOLKIT FOR A SUCCESSFUL ONLINE STUDENT.
Introduction to the Toolkit for a Successful Online Student.
Resource A: Faculty Tools.
Resource B: Student Tools.
References.
Index.
""…an especially useful resource…"" (
Teaching Theology and Religion
)
""The Virtual Student deserves a spot on every university educator's bookshelf."" (University Business, August 2003)