The Voice of Memory: Interviews 1961 - 1987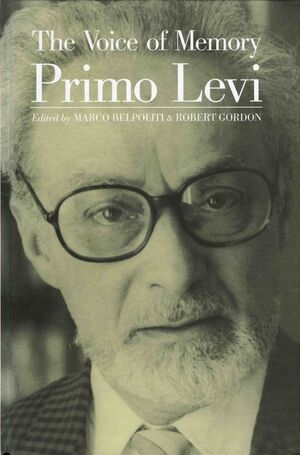 The Voice of Memory: Interviews 1961 - 1987
ISBN: 978-1-509-52621-5
Oct 2017, Polity
140 pages
Product not available for purchase
Description
Over the course of more than twenty-five years, Primo Levi gave more than two hundred newspaper, journal, radio and television interviews speaking with such varied authors as Philip Roth and Germaine Greer. Marco Belpoliti and Robert Gordon have selected and translated thirty-six of the most important of these interviews for The Voice of Memory.
Preface: Robert Gordon.
'I am a Centaura' Marco Belpoliti.
Editors' Note.
Part I: English Encounters.
Germaine Greer Talks to Primo Levi (1985).
A Man Saved by His Skills: Philip Roth (1986).
Primo Levi in London: Anthony Rudolph (1986).
Primo Levi in Conversation: Ian Thomson (1987).
Part II: Life.
The Little Theatre of Memory (1982).
Turin (1980).
Mountaineering (1984).
Chemistry (1983).
The Sinister Power of Science (1987).
Poetry and Computers (1985).
Me. Old? (1982).
Part III: Books.
The Truce (1963).
Science Fiction (1966/1971).
The Periodic Table (1975).
The Wrench (1979).
La Ricerca delle Radici (The Search for Roots) (1981).
If Not Now, When? (1982).
The Drowned and the Saved (1986).
Part IV: Literature and Writing.
A Mysterious Necessity (1972).
A Conversation with Primo Levi (1979).
Interview for a Dissertation(1981).
An Encounter with Primo Levi (1981).
An Assault Called Franz Kafka (1983).
Primo Levi (1984).
The Essential and the Superfluous (1987).
Part V: Auschwitz and Survival.
The Jewish Question (1961).
A Self-Interview, Afterword to If This is a Man (1976).
Return to Auschwitz (1982).
The Duty of Memory (1983).
Words, Memory, Hope (1984).
Part VI: Judaism and Israel.
Jewish Up to a Point (1976).
Interview with Primo Levi (1979).
God and I (1983).
Primo Levi: Begin Should Go (1982).
If This is a State (1984).
Bibliography of Levi's Works In Italian and English.
Index.
"One of the most important and gifted writers of our time"
Italo Calvino
"The qualities of mind and heart that made Primo Levi the essential chronicler of Auschwitz are on display in this invaluable collection. The voice is impossible to forget: ironical, subtle and humane. He talks as he writes, with the quiet precision of a chemist and the moral imagination of someone who has learned everything that suffering can teach." Michael Ignatieff

"Primo Levi, who spent two years in Auschwitz, is perhaps the most influential of the writers who survived the Holocaust. His status will be enhanced still further by this collection of 36 interviews...One recognises the voice familiar from his masterpieces, but a picture emerges of Levi also as political polemicist and Jewish atheist. Essential reading for readers of Levi as well as for students of contemporary literature." Sally Cousins, The Sunday Telegraph

"An essential addition to the canon ... these interviews enhance our previously limited knowledge, outside Italy, of the man's public face ... The Voice of Memory, an exceptionally well-edited and well-translated book, has two valuable introductions by the editors and very helpful notes ... I believe that the whole world has benefited from the presence of this man whose labours over 40 years fortified the planet's fragile immune system with antibodies of understanding and truth."Anthony Rudolf, The Jewish Chronicle

'Reading through the 36 interviews with Primo Levi (1919-87) that Marco Belpoliti and Robert Gordon have collected in The Voice of Memory can be an uncomfortable and bitter experience. There are pages upon pages with grim descriptions of Nazi concentration camps and the "demolition of man" that took place there .... and with Levi's despair at being unable to explain what he experienced. (The interviews are expertly translated from the Italian by Gordon). Still, much in these pages is deeply satisfying, and some interviews are strikingly illuminating.' New York Times Book Review

'With this collection of interviews drawn from the course of more than a quarter of a century, Levi can now be recognized not only as a writer of the Holocaust but as a seminal thinker of the 20th century.' Publishers Weekly

'This selection from over 250 recorded interviews makes for fascinating reading and confirms, as Robert Gordon says in his useful preface, that "Levi speaks as if writing and writes as if speaking." ' Jerusalem Post
1. A selection of 36 interviews with one of the most important writers of the twentieth century.
2. Presents valuable insights into various aspects of Levi's personality, as Holocaust survivor, writer and scientist.
3. The volume contains interviews by other well-known writers such as Germaine Greer and Philip Roth, and also includes the Afterword to If This is a Man.