The Warren Buffett CEO: Secrets from the Berkshire Hathaway Managers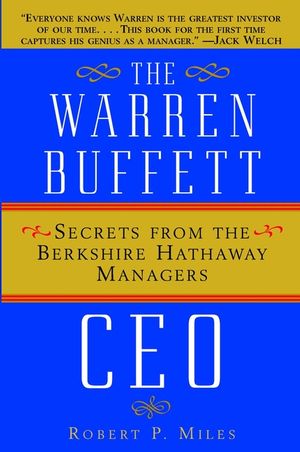 The Warren Buffett CEO: Secrets from the Berkshire Hathaway Managers
ISBN: 978-0-471-44259-2 October 2001 432 Pages
Description
""Everyone knows Warren is the greatest investor of our time. . . .This book for the first time captures his genius as a manager.""
—Jack Welch

The first book to reveal the investment and management strategies of the Berkshire Hathaway all-star management team. Much has been written about Warren Buffett and his investment philosophy; little has been made public about the inside management of Berkshire Hathaway. With a market cap exceeding 100 billion , Berkshire Hathaway has a market value surpassing many icons of American business such as Dell, AT&T, Disney, Ford, Gillette, American Express, and GM. Drawing on his personal experiences as well as those of Berkshire's chief executives, officers, and directors interviewed for this book, Berkshire insider Robert P. Miles provides a unique look at the Berkshire Hathaway culture and its management principles.
PART ONE: THE BUFFETT CEO.

1. Introduction--The Warren Buffett CEO.

2. Buffett CEO Selection.

PART TWO: BERKSHIRE'S CAPITAL SOURCE--THE INSURERS.

3. The Administrator (T. Nicely).

4. The Back-Up Capital Allocator (L. Simpson).

5. The Accidental Manager (A. Jain).

PART THREE: BERKSHIRE'S FOUNDERS.

6. The Natural (R. Blumkin).

7. The Visionary (A. Ueltschi).

8. The Innovator (R. Santulli).

PART FOUR: BERKSHIRE'S CEO FAMILY--CHILDREN AND GRANDCHILDREN.

9. The Disciple (D. Graham).

10. The Third-Generation Family Successor (I. Blumkin).

11. The Retired Manager (F. Rooney).

12. The Principled Manager (B. Child).

13. The Partner for Life (M. Wolff).

14. The Shoppertainers (E. Tatelman and B. Tatelman).

PART FIVE: BERKSHIRE'S CEO SUCCESSORS--THE PROFESSIONAL MANAGERS.

15. The Turnaround Manager (S. Lipsey).

16. The Loyalist (C. Huggins).

17. The Professional (R. Schey).

18. The Appointed One (S. Jacques).

19. The Gem of a Retail Merchant (J. Comment).

20. The Newcomers (R. Watson and H. Melton).

PART SIX: CONCLUSION.

21. Buffet CEO Comparisons.

22. Buffet CEO Evaluation and Compensation.

23. Buffet CEO Opportunity.

24. Berkshire Post Buffet.

Appendix one: Buffett CEO Interview List.

Appendix Two: Buffet CEO Family Tree.

Appendix Three: Buffet CEO SIC Codes.

Appendix Four: Buffet CEO Timeline.

Notes.

Index.