The Warren Buffetts Next Door: The World's Greatest Investors You've Never Heard Of and What You Can Learn From Them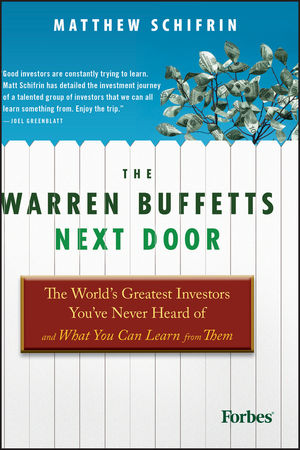 The Warren Buffetts Next Door: The World's Greatest Investors You've Never Heard Of and What You Can Learn From Them
ISBN: 978-0-470-57378-5
Nov 2010
224 pages
Description
A practical guide for investors who are ready to take financial matters into their own hands
The Warren Buffetts Next Door profiles previously unknown investors, with legendary performance records, who are proving every day that you don't need to work for a hedge fund or have an Ivy League diploma to consistently beat the best performing Wall Street professionals.
These amazing individuals come from all walks of life, from a globe drifting college dropout and a retired disc jockey to a computer room geek and a truck driver. Their methods vary from technical trading and global macro-economic analysis to deep value investing. The glue that holds them together is their passion for investing and their ability to efficiently harness the Internet for critical investment ideas, research, and trading skills.
The author digs deep to find the best of the best, even finding those who are making money during these turbulent times
Contains case studies that will explain to you how these great individual investors find and profit from stocks and options.
Shows you how to rely on your own instincts and knowledge when making important investment decisions
In an era when the best professional advice has cracked many investor nest eggs and Madoff-style frauds have shattered investor trusts, the self-empowered investors found in The Warren Buffetts Next Door offer an inspiring and educational tale.
Foreword.
Acknowledgments.
Introduction: Thou Shalt Covet Thy Neighbor's Portfolio.
Chapter 1 Vagabond Value.
Tangible Tactics.
Who Is Chris Rees?
Rees's Rules of Investing.
Case Study: Abatix Corp (OTC: ABIX).
Rees: In His Own Words.
Reflecting on the Financial Meltdown of 2008.
Chapter 2 Options Apostle.
Sell Options, Have Fun, and Make Money.
Who Is Bob Krebs?
Krebs's Rules of Investing.
Case Study: Annaly Mortgage (NYSE: NLY).
Krebs: In His Own Words.
On Avoiding the Big Loss.
A Silver Lining to the Crash of 2008.
Chapter 3 Lady's Man.
Knife Catching.
Who Is Mike Koza?
Koza's Rules of Investing.
Case Study: Radian Group (NYSE: RDN).
Koza: In His Own Words.
On Comparing the Market to Whitewater Rafting.
On Professional Money Management.
Chapter 4 The Sorcerer's Apprentice.
Magpie Investing.
Who Is Kai Petainen?
Petainen's Rules of Investing.
Case Study: Ternium, S.A. (NYSE:TX).
Petainen: In His Own Words.
On Jim Cramer, John Stewart, Stock Analysts, and ""Sisu"".
Chapter 5 Network Miner.
Peer-to-Peer Profits.
Who Is Alan Hill?
Hill's Rules of Investing.
Case Study: China Energy Corp. (OTCBB: CHGY).
Hill: In His Own Words.
On China's Emergence.
On Change.
Chapter 6 Ramblin' Jack.
Buying Hiccups.
Who Is Jack Weyland?
Weyland's Rules of Investing.
Case Study: Iomai.
Weyland: In His Own Words.
On Health Care versus Other Sectors.
On His Approach to Investing.
Chapter 7 The Oracle of Manitoba.
Warren Buffett Meets Sir John Templeton.
Who Is Randy McDuff?
McDuff's Rules of Investing.
Case Study: Companhia Brasileira de Distribuicao (NYSE: CBD).
McDuff: In His Own Words.
On Utilities and Recession-Resistant Stocks.
Post–2008 Crash Investing.
On Retirement Investing.
On New Money versus Old Money.
Chapter 8 Mexican Gold.
From Detective to Deal Maker.
Who Is Andrew Swann?
Swann's Rules of Investing.
Case Study: OceanaGold (TSE: OGC.CA).
Swann: In His Own Words.
On Owning Physical Gold.
On Whether He Is a Speculator or Investor.
On Living in Mexico.
Chapter 9 Stock Angler.
Do as I Do, Not as I Say.
Who Is Justin Uyehara?
Uyehara's Rules of Investing.
Case Study: Medivation (NASDAQ: MDVN).
Uyehara: In His Own Words.
On His Goal of Becoming a Money Manager.
On Price-Earnings Multiples.
On the Market's Strong Rebound from 2008.
Chapter 10 Bear Market Hero.
Bear Tracking.
Who Is John Navin?
Navin's Rules of Investing.
Case Study: PowerShares DB U.S. Dollar Index Bullish (NYSE: UUP).
Navin: In His Own Words.
On Playing Blackjack and Investing.
On Technical Analysis versus Fundamental Analysis.
On the Goldman Sachs Scandal Fallout.
Chapter 11 Legendary Investor Incubators.
Marketocracy (www.marketocracy.com).
ValueForum.com (www.valueforum.com).
Value Investors Club (www.valueinvestorsclub.com).
Motley Fool Caps (http://caps.fool.com).
Covestor (www.covestor.com).
kaChing.com (www.kaching.com).
RiskGrades (www.riskgrades.com).
Investor's Business Daily (www.investors.com).
American Association of Individual Investors (www.aaii.com).
FundAlarm (www.fundalarm.com).
StockCharts.com (www.stockcharts.com).
Other Sites to Bookmark.
Notes.
About the Author.
Index.