The Way I See It: Dueling Interpretations in American History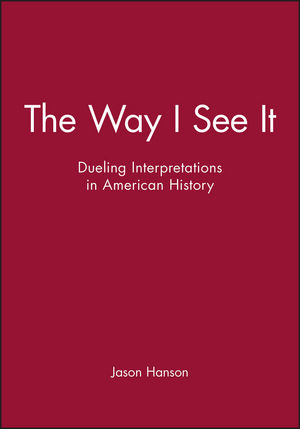 The Way I See It: Dueling Interpretations in American History
ISBN: 978-1-933-38514-3 July 2006 Wiley-Blackwell 176 Pages
Description
Fourteen of our nation's stories are collected in this book. Each story is drawn from a different period in American history, from the time Indians first appeared on the continent to the twenty-first century War on Terror, and each resonates with significance for the nation today. The arguments in this book have provoked passionate debate between observers at the time and among generations of historians who followed. In every case, there are at least two sides to the story and multiple possible meanings.


Each chapter focuses on one of these debates. After a brief introduction to the period and the issue at hand, two dueling interpretations of the topic present different ways of understanding it. Finally, some questions are outlined to help center attention on essential points and spark discussion.
Introduction.
1. Original Stories.
2. Colonial Society and Economy.
3. A More Perfect Union.
4. The Second Great Awakening.
5. War With Mexico.
6. The Civil War.
7. Reconstruction.
8. Westward Expansion.
9. Dust, Depression, and the New Deal.
10. World War II.
11. The Civil Rights Movement.
12. The Vietnam War.
13. The Cold War.
14. After 9/11.