The Weight of Things: Philosophy and the Good Life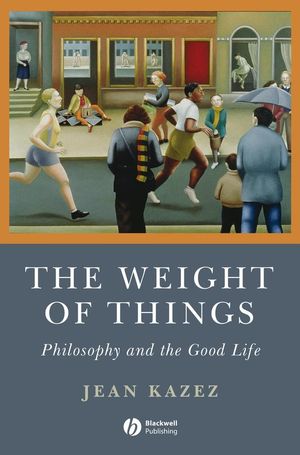 The Weight of Things: Philosophy and the Good Life
ISBN: 978-1-405-18155-6 February 2009 Wiley-Blackwell 192 Pages
Description
The Weight of Things
explores the hard questions of our daily lives, examining both classic and contemporary accounts of what it means to lead 'the good life'.


Looks at the views of philosophers such as Aristotle, the Stoics, Mill, Nietzsche, and Sartre as well as contributions from other traditions, such as Buddhism

Incorporates key arguments from contemporary philosophers including Peter Singer, Martha Nussbaum, Robert Nozick, John Finnis, and Susan Wolf

Uses examples from biography, literature, history, movies and media, and the news

Gives a fresh perspective on the hard questions of our daily lives

An engaging read; an excellent book for both students and general readers
Table of contents
Introduction.
1. This Mortal World.
2. Strange Lives.
3. Reason and Luck.
4. Is Happiness All That Matters?.
5. Necessities.
6. Puzzles of Diversity.
7. Hard Choices.
8. Trying to be Good.
9. The Religious Realm.
10. Taking Aim.
Notes.
Bibliography.
Acknowledgments.
Index
Reviews
"Warmly written... lucid and humanely engaging."
The Guardian
"This book fills an important niche between academic analyses of the meaning of life and overly popularized 'tips for good living'. I've read quite a few books in this area and there is more insight, wit, and wisdom per page in this one book than in almost any of the others."
Edward Langerak, St Olaf College

"The Weight of Things is clear, provocative, tightly-argued, and rich with memorable examples. Written in an informal yet careful style, this examination of how we ought to live is philosophically acute and a delight to read."
Marcia McKelligan, DePauw University

"Kazez provides a bracing forum for engagement [and] presents a framework within which readers may contemplate their own ideas. Fluid writing, accompanied by a provocative thesis."
Choice Magazine
What's New


Examines the idea of living "The Good Life" and what that has meant philosophically, through the ages

Looks at the views of philosophers such as Aristotle, the Stoics, Mill, Nietzsche, and Sartre as well as contributions from other traditions, such as Buddhism

Incorporates key arguments from contemporary philosophers including Peter Singer, Martha Nussbaum, Robert Nozick, John Finnis, and Susan Wolf

Uses examples from biography, literature, history, movies and media, and the news

Gives a fresh perspective on the hard questions of our daily lives

An engaging read; an excellent book for both students and general readers