The Welfare of Children with Mentally Ill Parents: Learning from Inter-Country Comparisons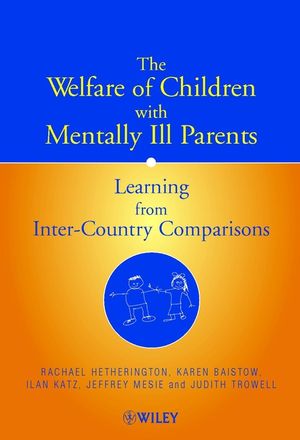 The Welfare of Children with Mentally Ill Parents: Learning from Inter-Country Comparisons
ISBN: 978-0-471-49724-0
Jan 2002
262 pages
Description
The Welfare of Children with Mentally Ill Parents examines the interventions made by professional workers from a range of different disciplines in families with dependent children and a mentally ill parent. The authors compare responses of professionals in ten European countries and one state in Australia. The analysis of the differences sheds new light on both the inherent and system-determined difficulties in helping families to manage their situation effectively.
* Features the only comparative study of mental health social services and the law governing compulsory hospital admission
* Covers a current "hot-button" topic that is growing in importance as the impact of social policy developments on children over time becomes more apparent
* Offers a unique perspective due to the focus on the impact of children of mentally ill parents and the international systems that deal with child protection
List of Figures and Tables.
About the Authors.
Preface.
I INTRODUCTION: USING COMPARISON.
1 The Context and the Method.
2 The Systems of the Partner Countries: Introduction and the Scandinavian Law Countries.
3 The Systems of the Partner Countries: the Continental Countries and the English-Speaking Countries.
4 Compulsory Hospitalisation in Mental Health and State Intervention for Child Protection.
5 The Responses of the Partner Countries to the Vignette.
6 Issues.
7 Inter-Country Reflections.
II INTRODUCTION: WORKING WITH DIFFERENCE.
8 Comparisons: England, Germany and Italy.
9 The State and the Family: Explaining Variations in Interventions.
10 Risk, Childhood and Mental Health.
11 Co-operation and Communication.
III INTRODUCTION: DEVELOPING NEW INFORMATION.
12 Invisible Children.
13 Meeting Needs.
14 Conclusions.
Appendix: The Professions Represented in the Discussion Groups.
Glossary and Index of Acronyms.
References.
Index.
"..Overall this is an excellent book" (Mental health Today, May 2002)
"…I would strongly recommend this book…" (Child & Family Social Work, Vol.7, No.3, 2002)
"…Much can be learned from international comparison studies…" (Int Jnl of Adolescent Medicine and Health, Vol.14, No.2, 2002)
"…This book is fascinating reading…" (The British Journal of Social Work, Vol.32, No.7, 2002)
"…found this book to be a comprehensive treatment of the subject…" (Child Abuse Review, May 2003)
"…an important contribution to the debate…we can certainly learn from the evidence presented in this book…(Child Abuse Review, Vol 12 2003)