The Welfare-to-Work Challenge for Adult Literacy Educators: New Directions for Adult and Continuing Education, Number 83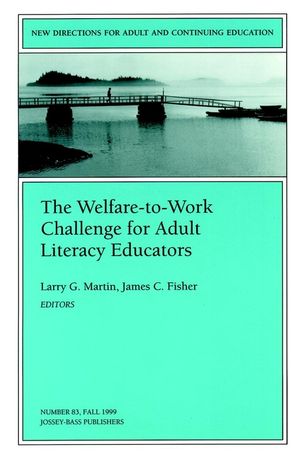 The Welfare-to-Work Challenge for Adult Literacy Educators: New Directions for Adult and Continuing Education, Number 83
ISBN: 978-0-787-91170-6
Feb 2000, Jossey-Bass
112 pages
Description
Recently enacted welfare reform and workforce development legislation has had a dramatic impact on the funding, implementation, and evaluation of adult basic education and literacy programs. This issue of New Directions for Adult and Continuing Education provides a framework for literacy practitioners to better align their field with the demands of the new Work First environment and to meet the pragmatic expectations of an extended list of stakeholders. The authors offer innovative alternatives to traditional literacy programs that more effectively transition welfare recipients into the workforce. They also look at the new skills and preparation adult educators need to fulfill their changing roles.

This is the 83rd issue of the quarterly journal New Directions for Adult and Continuing Education .
1. Policy Issues That Drive the Transformation of Adult Literacy (Elisabeth Hayes).
2. Critical Issues and Dilemmas for Adult Literacy Programs Under Welfare Reform (Barbara Sparks ).
3. Research on Adult Literacy Education in the Welfare-to-Work Transition (James C. Fisher).
4. Continuum of Literacy Program Models: Alternative Approaches for Low-Literate Welfare Recipients (Larry G. Martin).
5. The Brave New World of Workforce Education (Eunice N. Askov, Edward E. Gordon).
6. The New Role of Community-Based Agencies (Daniel V. Folkman, Kalyani Rai).
7. New Skills for Literacy Educators (John M. Dirkx).
Epilogue (Larry G. Martin, James C. Fisher).