The Westernization of the World: Significance, Scope and Limits of the Drive Towards Global Uniformity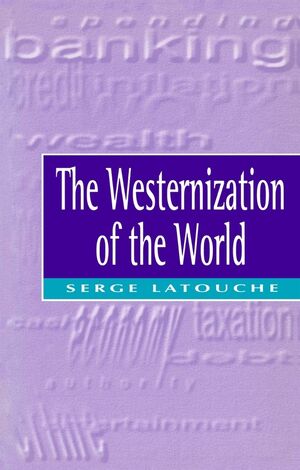 The Westernization of the World: Significance, Scope and Limits of the Drive Towards Global Uniformity
ISBN: 978-0-745-61429-8
May 1996, Polity
160 pages
Description
This provocative new book argues that the rise of the West to world domination has brought widespread social, cultural and material destruction in its wake.
Preface to the English Edition.
Introduction.
1. The Irresistible Rise of the West: The Crusaders' Revenge.
2. Where and What is the West?.
3. Uprooting the Planet.
4. The Limits of World-wide Westernization.
5. Beyond or Elsewhere.
6. Must we Save Babel?.
Appendices.
Index.
'In this intellectually sparkling and emotionally charged book, Serge Latouche criticizes the western model of civilization and development, which has become ever more pervasive in the wake of decolonization. Surveying the ruinous impact of westernization with a broad historical sweep and across continents, Latouche not only condemns its role in the deculturation and underdevelopment of the so-called 'Third World' but also highlights the possibilities offered, against all western theories, by the survival strategies of self-organizing marginalized communities.' Bob Jessop, Lancaster University
Provocative new book by one of Europe's leading authorities on social and economic development in the Third World
Puts forward a bold argument, challenging the western concept of "development" and the values it represents.