The Wiley Blackwell Companion to Practical Theology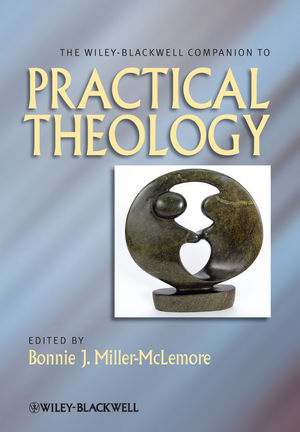 The Wiley Blackwell Companion to Practical Theology
ISBN: 978-1-444-34572-8 September 2011 Wiley-Blackwell 640 Pages
Description
Through a series of essays contributed by leading experts in the field, The Wiley-Blackwell Companion to Practical Theology presents an introduction to practical theology as a major area of Christian study and practice, including an overview of its key developments, themes, methods, and future directions. 


The first comprehensive reference work to provide a survey, description and analysis of practical theology as an area of study
A range of leading scholars in the field provide original contributions on the major areas, issues, and figures in practical theology
Reviews an extensive range of methods for studying theology in practice, along with sub-disciplines in theological education such as pastoral care and preaching
Covers developments in the discipline in a range of global contexts and distinct Christian traditions
Shows how practical theology is relevant to everyday life
Notes on Contributors xi
Introduction: The Contributions of Practical Theology 1
Bonnie J. Miller-McLemore
Part I Way of Life: Shaping Faith among Believers in Home and Society 21
1 Suffering 23
Pamela Cooper-White
2 Healing 32
Susan J. Dunlap
3 Playing 42
Jaco Hamman
4 Eating 51
Dorothy C. Bass
5 Loving 61
Herbert Anderson
6 Consuming 70
Katherine Turpin
7 Blessing 80
Christian Scharen
Part II Method: Studying Theology in Practice in Library and Field 89
8 Case Study Method 91
Daniel S. Schipani
9 Psychological Theory 102
Lee H. Butler, Jr.
10 Hermeneutical Theory 112
Sally A. Brown
11 Quantitative Method 123
Hans Schilderman
12 Congregational Studies 133
James R. Nieman
13 Ritual Theory 143
Edward Foley
14 Social Policy 153
Pamela D. Couture
15 The Use of Scripture 163
Paul Ballard
16 Poetics 173
Heather Walton
17 Emancipatory Theory and Method 183
Nancy J. Ramsay
18 Feminist Theory 193
Elaine Graham
19 Womanist Theory 204
Evelyn L. Parker
20 Narrative Approaches 214
R. Ruard Ganzevoort
21 Ethnography 224
Mary Clark Moschella
22 Participatory Action Research 234
Elizabeth Conde-Frazier
23 Theories of Practice 244
Ted A. Smith
24 Action Theories 255
Robert Mager
Part III Curriculum: Educating for Ministry and Faith in Classroom, Congregation, and Community 267
25 Pastoral Care 269
Barbara McClure
26 Homiletics 279
John S. McClure
27 Worship 289
Don E. Saliers
28 Religious Education 299
Carol Lakey Hess
29 Religious Leadership 308
Michael Jinkins
30 Evangelism 318
Jeffery L. Tribble, Sr.
31 Spirituality 328
Claire E. Wolfteich
32 Ethics 337
Miguel A. De La Torre
33 Contextual Education 347
Emily Click
34 Systematic Theology 357
Mary McClintock Fulkerson
35 Historical Theology 367
James M. Brandt
36 Biblical Theology 377
Michael Joseph Brown
37 Integration in Theological Education 386
Kathleen A. Cahalan
Part IV Discipline: Defi ning History and Context in Guild and Global Setting 397
Section 1: Issues, Contexts, and Perspectives 399
38 Race and Racism 401
Dale P. Andrews
39 Gender, Sexism, and Heterosexism 412
Jeanne Hoeft
40 Globalization, Colonialism, and Postcolonialism 422
Melinda McGarrah Sharp
41 Economics, Class, and Classism 432
Joyce Ann Mercer
42 Disability, Ableism, and Disablism 443
John Swinton
43 Religious Pluralism and Christian-Centrism 452
Kathleen J. Greider
Section 2: Global Developments 463
44 Continental Europe 465
Friedrich Schweitzer
45 Britain 475
Zoë Bennett
46 French Canada 485
Solange Lefebvre
47 The United States 495
Richard R. Osmer
48 South Africa 505
Jaco S. Dreyer
49 West Africa 515
Daisy N. Nwachuku
50 Brazil 525
Valburga Schmiedt Streck
51 South Korea 534
Meerha Hahn
52 Australia and Oceania 544
Gerard V. Hall
Section 3: Traditions 555
53 Mainline Protestantism 557
Gordon S. Mikoski
54 Roman Catholicism 567
Lynn Bridgers
55 Protestant Evangelicalism 577
Charles J. Scalise
56 Pentecostalism 587
Mark J. Cartledge
Index of Subjects 596
Index of Names 619
"The energy, organization, intelligence, and wisdom of the editor have borne fruit in this very splendid book. It deserves to be widely read and used." (Reviews Religion & Theology, 7 April 2015)
"The first comprehensive reference work to provide a survey, description and analysis of practical theology as an area of study." (Native American Encyclopedia, 20 December 2013)
"This Companion has wide scope … and is surely the most definitive definition of what practical theology entails to date … An important addition to the shelves of those who teach practical theology or ministers as well as those engaged in the ministry themselves ... [It] offers a new way of seeing the subject, with sets of essays that are informative, novel, and take theology in new directions." (Regent's Reviews, 2012)
"This edited collection is a showcase presenting how contemporary scholarship of practical theology has been developed into a wide concept of practical theology ... For those who are interested in teaching Christian theology from a practical theological perspective, this book will be a useful reference." (Homiletic Journal, 2012)
"Miller-McLemore, a leader in the field, has edited an excellent handbook on Christian practical theology. Though the essays are short, they provide excellent overviews of the various topics and, more important, helpful bibliographies for students who wish to explore certain topics further … Libraries supporting curricula in Christian theology and ministry should acquire this good introduction to the field. It is essential for acquisition for seminary libraries ... Recommended: upper-level undergraduates and above." (Choice, 2012)