The Wiley-Blackwell Encyclopedia of Eighteenth-Century Writers and Writing 1660 - 1789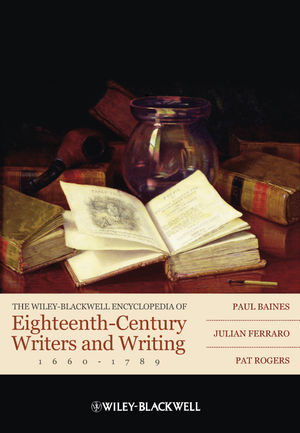 The Wiley-Blackwell Encyclopedia of Eighteenth-Century Writers and Writing 1660 - 1789
ISBN: 978-1-444-39008-7 December 2010 Wiley-Blackwell 432 Pages
Description
The Wiley-Blackwell Encyclopedia of Eighteenth-Century Writers and Writing1660-1789 features coverage of the lives and works of almost 500 notable writers based in the British Isles from the return of the British monarchy in 1660 until the French Revolution of 1789.
Broad coverage of writers and texts presents a new picture of 18th-century British authorship
Takes advantage of newly expanded eighteenth-century canon to include significantly more women writers and labouring-class writers than have traditionally been studied
Draws on the latest scholarship to more accurately reflect the literary achievements of the long eighteenth century
Acknowledgments.
Timeline.
Introduction and Further Reading.
Entries A–Z.
Index.
"As with any good collection of biographical essays, one finds many humanizing snippets that bring the century closer to us than any accumulation of facts and dates can do ... The volume reminds us why we fell in love with this period."  (The Scriblerian and The Kit-Cats, 1 October 2013)
"This modest volume offers an excellent reference resource for students and scholars, but, as the authors explain, their aim is not only provide 'reliable and accessible information' but also 'to offer a kind of browsing sense of interconnection between writers, and indeed a sample of the collective variety of the period' (p. xxii)." (Years Work in English Studies, 1 August 2013)  
"Excellent ... The range of authors covered in the encyclopaedia, while not exhaustive, should definitely be sufficient for most undergraduate or postgraduate students." (Journal for Eighteenth-Century Studies, 17 July 2013)