The Wiley-Blackwell Handbook of Schema Therapy: Theory, Research, and Practice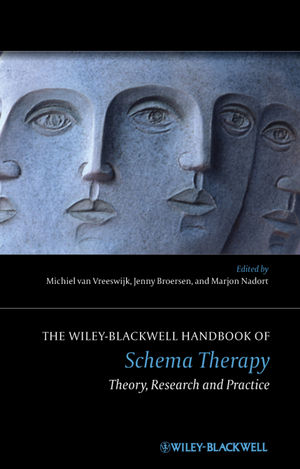 The Wiley-Blackwell Handbook of Schema Therapy: Theory, Research, and Practice
ISBN: 978-1-118-33229-0
Mar 2012, Wiley-Blackwell
680 pages
Description
The Wiley-Blackwell Handbook of Schema Therapy provides a comprehensive overview of developments in the theory, diagnosis, treatment, research, implementation, and management of schema therapy.
Presents a comprehensive overview of schema therapy - goes far beyond all previous books on the subject to cover theoretical, research and practical perspectives

Covers the latest developments, including work on mindfulness and borderline personality disorder, as well as new applications of schema therapy beyond personality disorders
Includes chapters by leaders in the field including Wendy Behary and Arnoud Arntz, as well as a foreword by Jeffrey Young, the founder of schema therapy
List of Contributors ix
Foreword xxiii
Jeffrey Young
Acknowledgments xxv
Part I An Introduction to Schema Therapy 1
Chapter 1: Schema Therapy in Historical Perspective 3
David Edwards and Arnoud Arntz
Chapter 2: Theoretical Model: Schemas, Coping Styles, and Modes 27
Hannie van Genderen, Marleen Rijkeboer, and Arnoud Arntz
Chapter 3: A New Look at Core Emotional Needs 41
George Lockwood and Poul Perris
Part II The Indication Process in Schema Therapy 67
Chapter 1: The Case Formulation Process in Schema Therapy of Chronic Axis I Disorder (Affective/Anxiety Disorder) 69
Asle Hoffart
Chapter 2: Schema Therapy for Narcissism – A Case Study 81
Wendy Behary
Chapter 3: Assessment for Schema Therapy 91
Anoek Weertman and Hilde de Saeger
Chapter 4: The Use of Experiential Techniques for Diagnostics 101
Anoek Weertman
Chapter 5: Clinical Use of Schema Inventories 111
Alexandra Sheffield and Glenn Waller
Chapter 6: Case Conceptualization in Schema Therapy 125
Hannie van Genderen
Part III Schema Therapy Techniques 143
Chapter 1: Schema Therapy for Eating Disorders: A Case Study Illustration of the Mode Approach 145
Susan Simpson
Chapter 2: Treating OCD with the Schema Mode Model 173
Ellen Gross, Nicola Stelzer, and Gitta Jacob
Chapter 3: Techniques within Schema Therapy 185
Michiel van Vreeswijk, Jenny Broersen, Josephine Bloo, and Suzanne Haeyen
Chapter 4: On Speaking One's Mind: Using ChairWork Dialogues in Schema Therapy 197
Scott Kellogg
Chapter 5: Schema Therapy and the Role of Joy and Play 209
George Lockwood and Ida Shaw
Chapter 6: Schema Therapy, Mindfulness, and ACT – Differences and Points of Contact 229
Erwin Parfy
Chapter 7: Why Are Mindfulness and Acceptance Central Elements for Therapeutic Change in Schema Therapy Too?: An Integrative Perspective 239
Eckhard Roediger
Chapter 8: Mindfulness and ACT as Strategies to Enhance the Healthy Adult Mode: The Use of the Mindfulness Flash Card as an Example 249
Pierre Cousineau
Chapter 9: Teaching Mindfulness Meditation within a Schema Therapy Framework 259
David Bricker and Miriam Labin
Chapter 10: Schema-Focused Mindfulness: an Eight-Session Protocol 271
Michiel van Vreeswijk and Jenny Broersen
Chapter 11: The Impact of Measuring: Therapy Results and Therapeutic Alliance 283
Michiel van Vreeswijk, Jenny Broersen, and Philip Spinhoven
Part IV Schema Therapy Settings and Patient Populations 299
Chapter 1: Inpatient Schema Therapy for Patients with Borderline Personality Disorder – a Case Study 301
Neele Reiss, Gitta Jacob, and Joan Farrell
Chapter 2: Individual Schema Therapy: Practical Experience with Adults 311
Pien van den Kieboom and Daan Jonker
Chapter 3: Schema Therapy for Couples: Healing Partners in a Relationship 323
Travis Atkinson
Chapter 4: Introduction to Group Schema Therapy 337
Joan Farrell
Chapter 5: Group Schema Therapy for Borderline Personality Disorder Patients: Catalyzing Schema and Mode Change 341
Joan Farrell, Ida Shaw, and Neele Reiss
Chapter 6: Implementation of Schema Therapy in an Inpatient and Day Treatment Group Setting 359
Eelco Muste
Chapter 7: Schema Therapy in Groups: A Short-Term Schema CBT Protocol 373
Jenny Broersen and Michiel van Vreeswijk
Chapter 8: Schema Therapy in a Psychodynamic Group 383
Helga Aalders and Janie van Dijk
Chapter 9: Schema Therapy in Adolescents 391
Maryke Geerdink, Erik Jongman, and Agnes Scholing
Chapter 10: Schema Therapy for Cluster C Personality Disorders 397
Arnoud Arntz
Chapter 11: Schema Therapy for Personality Disorders and Addiction 415
Truus Kersten
Chapter 12: Schema Therapy in Forensic Settings 425
David Bernstein, Marije Keulen-de Vos, Philip Jonkers, Ellen de Jonge, and Arnoud Arntz
Part V The Therapist: Training, Supervision, and Self-Care in Schema Therapy 439
Chapter 1: Training for and Registrations of Schema Therapists 441
Marjon Nadort, Hannie van Genderen, and Wendy Behary
Chapter 2: Training and Supervision in Schema Therapy 453
Marjon Nadort, Hannie van Genderen, and Wendy Behary
Chapter 3: The Schema Mode Model in Personal Therapy 463
Gitta Jacob
Chapter 4: Therapist Self-Care in the Context of Limited Reparenting 473
Poul Perris, Heather Fretwell, and Ida Shaw
Part VI Research in Schema Therapy 493
Chapter 1: Effectiveness Studies 495
Lotte Bamelis, Josephine Bloo, David Bernstein, and Arnoud Arntz
Chapter 2: Experimental Studies of Schema Modes 511
Jill Lobbestael
Chapter 3: Experimental Studies for Schemas 519
Simkje Sieswerda
Chapter 4: Validation of the Young Schema Questionnaire 531
Marleen Rijkeboer
Chapter 5: Validation of the Schema Mode Inventory 541
Jill Lobbestael
Part VII Implementation and Public Relations in Schema Therapy 553
Chapter 1: Implementation of Schema Therapy in General Mental Healthcare Institutes 555
Marjon Nadort
Chapter 2: Using ST Principles to Increase the Therapeutic Effi cacy of the Forensic Care Team's Interactions with Personality Disordered Clients 569
Naomi Murphy, Des McVey, and Geoff Hopping
Chapter 3: Implementation of Schema Therapy in de Rooyse Wissel Forensic Psychiatric Center 579
Truus Kersten and Lieda van de Vis
Chapter 4: Cost-Effectiveness of Schema Therapy 585
Thea van Asselt and Josephine Bloo
Chapter 5: Public Relations for Schema Therapy 599
Michiel van Vreeswijk, Marjon Nadort, and Jenny Broersen
Chapter 6: Concluding Thoughts 609
Michiel van Vreeswijk, Jenny Broersen, and Marjon Nadort
Author Index 611
Subject Index – Schema Therapy 627
"Overall, this is a comprehensive and authoritative text on the schema model, which has something to offer both to novice and experienced clinicians."  (Clinical Psychologist, 13 June 2013)
"With a foreword by Jeff Young, the founder of schema therapy, this handbook is truly indispensable for any clinician with an interest in schema therapy, from the novice to the experienced schema therapist... Overall an exciting and interesting book, which renewed my passion for schema therapy."
The Psychologist, February 2013