The Wiley Guide to Managing Projects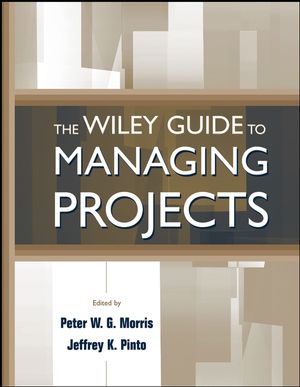 The Wiley Guide to Managing Projects
ISBN: 978-0-471-23302-2 September 2004 1440 Pages
Description
This handbook pulls together the fundamentals of project management and presents them along side the other business systems and procedures effected by project management. The book is the most comprehensive reference resource for all business managers. It allows readers to understand how project management fits into their organization, and helps them apply this knowledge on the job.
Buy Both and Save 25%!
Original Price:$309.00
Purchased together:$231.75
save $77.25
Cannot be combined with any other offers.
Preface.
Introduction.
SECTION I: INTRODUCTION TO SECTION I: KEY ASPECTS OF PROJECT MANAGEMENT.
1. Control (Peter Harpum).
2. Qualitative and quantitative risk management (Stephen J. Simister).
3. Project Management Structures (Erik Larson).
4. An Overview of Behavioral Issues in Project Management (Dennis P. Slevin and Jeffrey K. Pinto).
SECTION II: THE MANAGEMENT OF PROJECTS.
SECTION II:1. STRATEGY, PORTFOLIO AND PROGRAM MANAGEMENT.
5. Project Success (Terry Cooke-Davies).
6. Management of the Project-Oriented Company (Roland Gareis).
7. Strategic Business Management through Multiple Projects (Karlos A. Artto and Perttu H. Dietrich).
8. Moving From Corporate Strategy to Project Strategy (Ashley Jamieson and Peter W.G. Morris).
9. Strategic Management:   The Project Linkages (David I. Cleland).
10. Models of Project Orientation in multi-project organizations (Joseph Lampel and Pushkar. P.Jha).
11. Project Portfolio Selection and Management (Norm Archer and Fereidoun Ghasemzadeh).
12. Program Management: A Strategic Decision Management Process (Michel Thiry).
13. Modeling of Large Projects (Ali Jaafari).
14. Managing Project Stakeholders (Graham M Winch).
15. The Financing of Projects (Rodney Turner).
16. Private Finance Initiative and the management of projects (Graham Ive).
SECTION II.2: TECHNOLOGY MANAGEMENT.
17. Requirements Management in a Project Management Context (Alan M. Davis, et al.)
18. Design Management (Peter Harpum).
19. Concurrent Engineering for Integrated Product Development (Hans J. Thamhain).
20. Process and Product Modeling (Rachel Cooper, et al.).
21. Managing Configurations and Data for Effective Project Management (Callum Kidd and Thomas F Burgess).
22. Safety, Health and Environment (Alistair Gibb).
23. Verification (Hal Mooz).
24. Managing Technology: Innovation, Learning and Maturity (Rodney Turner and Anne Keegan).
SECTION II.3: SUPPLY CHAIN MANAGEMENT AND PROCUREMENT.
25. Integrated Logistic Support and all that - a review of through-life project management (David Kirkpatrick, et al.).
26. Project Supply Chain management - optimizing value the way we manage the total supply chain (Ray Venkataraman).
27. Procurement: Process Overview and Emerging Project Management Techniques (Mark E. Nissen).
28. Procurement Systems (David Langford and Mike Murray).
29. Contract Management (David Lowe).
30. Tender Management (George Steel).
31. Project Changes: Sources, Impacts, Mitigation, Pricing, Litigation & Excellence (Kenneth G. Cooper and Kimberly Sklar Reichelt).
SECTION II.4: CONTROL.
32. Time and Cost (Asbjorn Rolstadas).
33. Critical Chain Project Management (Lawrence P. Leach).
34. Project Performance Measurement (Daniel M. Brandon).
35. Making risk management more effective (Stephen Ward and Chris Chapman).
36. Value Management (Michel Thiry).
37. Improving Quality in Projects and Programs (Martina Huemann).
38. The Project Management Support Office (Martin Powell and James Young).
SECTION II.5: COMPETENCE DEVELOPMENT.
39. Contemporary Views on Shaping, Developing and Managing Teams (Connie L. Delisle).
40. Leadership of Project Team (Peg Thoms and John J.Kerwin).
41. Power, Influence and Negotiation in Project Management (John M. Magenau and Jeffrey K. Pinto).
42. Managing Human Resources in the Project-Oriented Company (Martina Huemann, et al.).
43. Competencies: Organizational and Persona (Andrew Gale).
44. Projects: learning at the edge of organization (Christophe N. Bredillet).
45. The validity of knowledge in project management and the challenge of learning and competency development (Peter W.G. Morris).
46. Global Body of Project Management Knowledge and Standards (Lynn Crawford).
47. Lessons Learned: Project Evaluation (J. Davidson Frame)
Chapter 48. Developing Project Management Capability - Benchmarking, Maturity, Modeling, Gap Analyses, ROI Studies (C. William Ibbs, et al.).
49. Project Management Maturity Models (Terry Cooke-Davies).
SECTION III: APPLICATIONS IN PRACTICE.
50. How Projects Differ, And What to Do About It (Aaron J.Shenhar and Dov Dvir).
51. Managing New Product Development Projects (Dragan Milosevic).
52. Pharmaceutical Drug Development Project Management (Janet Foulkes and Peter W.G. Morris).
53. Project Management in the Defense Industry (John F. Roulston).
54. Project Management in the construction Industry (Peter W.G. Morris).
55. Project Management in the Automotive Industry (C. Midler and C. Navarre).
56. Professional Associations and Global Initiatives (Lynn Crawford).
Index.
" ...it far exceeds any handbook and stands alone as the rightful successor to the seminal project management handbook published by Cleland and King in 1983." (PMI Journal Review)