The Wiley Polymer Networks Group Review, Volume 2, Synthetic versus Biological Networks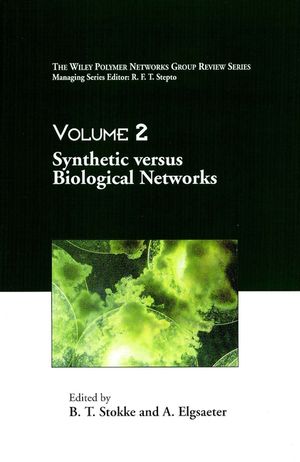 The Wiley Polymer Networks Group Review, Volume 2, Synthetic versus Biological Networks
ISBN: 978-0-471-98713-0 April 2000 524 Pages
Description
The Wiley Polymer Networks Group Review Series Volume 2 Synthetic versus Biological Networks Edited by B. T. Stokke and A. Elgsaeter The Norwegian University of Science and Technology, Trondheim, Norway This, the second volume in the series, presents articles from the 14th Polymer Networks Group conference which took place in Norway in July 1998 The focus of the conference was 'Synthetic versus Biological Networks' with papers highlighting the different ideas emerging from investigations into synthetic polymer networks as opposed to, and in comparison with, polymer networks of biological origins. The papers published in this volume have been divided into six sections: Network Formation Network Characterization Polymer Networks and Precursor Architectures Biopolymer Networks and Gels Biomedical Applications of Polymer Networks Polymer Networks in Restricted Geometries
Partial table of contents:

NETWORK FORMATION.

Modelling of Network Polymerization with Intramolecular Cyclization (H. Galina & J. Lechowicz).

Primary Cyclization Reactions in Crosslinked Polymers (J. Elliot & C. Bowman).

Networks Monte Carlo Simulations for Coatings Research in Industry (J. Aerts).

Novel Intelligent Amphiphilic Conetworks (G. Erdödi, et al.).

The Role of Strong Intermolecular Interaction in the Formation of Network Polymers (B. Rozenberg, et al.).

NETWORK CHARACTERIZATION.

Osmotically Active and Osmotically Passive Counter Ions in Polyelectrolyte Gels (K. Zeldovich, et al.).

Nanostructures in Swollen Polymer Networks (F. Horkay, et al.).

Effects of Polymer Networks on the Bending Electrostriction of Polyurethanes (M. Watanabe, et al.).

POLYMER NETWORKS AND PRECURSOR ARCHITECTURES.

Hyperbranched Polymers in Thermoset Applications (M. Johansson).

Hyperbranched Biopolymers (W. Burchard, et al.).

Amphiphilic Multicomponent Polymer Networks: Design, Evaluation and Applications (F. Du Prez, et al.).

BIOPOLYMER NETWORKS AND GELS AND THEIR MODELS.

Physical Network Formation under Shear (M. Djabourov, et al.).

Structure and Rheology of Gelatin Gels (P. Gilsenan & S. Ross-Murphy).

Kinetical, Structural and Dynamical Properties of Fibrin Networks (G. Arcovito, et al.).

BIOMEDICAL APPLICATIONS OF POLYMER NETWORKS.

Transtissue Photopolymerization of Poly(Vinyl Alcohol) Hydrogels (S. Bryant, et al.).

Rheological Properties and Microstructure of Tissue Engineered Cartilage (M. Stading & R. Langer).

POLYMER NETWORKS IN RESTRICTED GEOMETRIES.

Preparation and Application of Crosslinked Monodisperse Particles (A. Berge, et al.).

Polymer Solutions Confined in a Rigid Network (C. Kloster, et al.).

High Elongation of Deswollen Polysiloxane Networks (K. Urayama, et al.).

Index.
"All serious scientists active in polymer network research need access to these proceedings, and arguably should have a copy on their bookshelf."
--Reactive & Functional Polymers, 2000