The Wisdom of Practice: Essays on Teaching, Learning, and Learning to Teach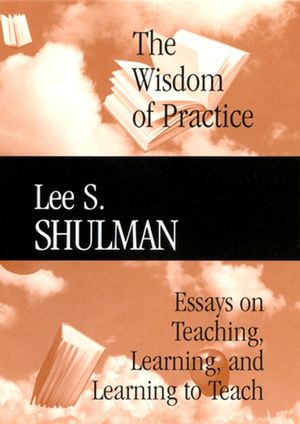 The Wisdom of Practice: Essays on Teaching, Learning, and Learning to Teach
ISBN: 978-0-787-97200-4
Apr 2004, Jossey-Bass
608 pages
Product not available for purchase
Description
What do teachers need to know in order to teach well?  How important is the depth and quality of teachers' content knowledge as a critical aspect of their ability to teach?  How can teachers best be educated, and how can we assess their accomplishments as teachers? In what ways is the professional preparation of teachers comparable to the preparation of physicians and other members of learned professions?  What kinds of educational research can provide deeper understanding of teaching, learning, and the reform of education? These are just some of the many questions answered in this landmark collection of Lee Shulman's best work. A pioneer in the field of teaching and teacher research, Shulman's work and thinking have long influenced teachers and researchers. But while Shulman is one of the most widely cited scholars in education, his writings have been scattered among a variety of books and journals—until now.  

The Wisdom of Practice at last makes Shulman's major works on K-12 education and teacher education available in one volume. His interests in teaching of all sorts—in K-12 schools, in teacher education, in graduate programs for educational researchers, in liberal education—have been diverse. The essays included touch on such wide-ranging topics as the psychology of school subjects, medical problem solving, teacher knowledge, performance assessment, teaching in higher education, the scholarship of teaching and learning, the characteristics and pedagogies of the professions, the role of cases in professional education and research, and the character of relevant and rigorous educational research.
Sources.
About the Author.
Acknowledgments.
Foreword (Pat Hutchings, The Carnegie Foundation for the Advancement of Teaching).
Introduction (Suzanne M. Wilson, Michigan State University).
1. Reconstruction of Educational Research.
2. Psychology and Mathematics Education.
3. The Psychology of School Subjects: A Premature Obituary?
4. Autonomy and Obligation: The Remote Control of Teaching.
5. The Practical and the Eclectic: A Deliberation on Teaching and Educational Research.
6. Those Who Understand: Knowledge Growth in Teaching.
7. Knowledge and Teaching: Foundations of the New Reform.
8. The Wisdom of Practice: Managing Complexity in Medicine and Teaching.
9. Disciplines of Inquiry in Education: A New Overview.
10. Teaching Alone, Learning Together: Needed Agendas for the New Reforms.
11. The Paradox of Teacher Assessment.
12. A Union of Insufficiencies: Strategies for Teacher Assessment in a Period of Educational Reform.
13. Research on Teaching: A Historical and Personal Perspective.
14. Teacher Portfolios: A Theoretical Activity.
15. Aristotle Had It Right: On Knowledge and Pedagogy.
16. Joseph Jackson Schwab (1909–1988).
17. Calm Seas, Auspicious Gales.
18. Teaching as Community Property: Putting an End to Pedagogical Solitude.
19. Just in Case: Reflections on Learning from Experience.
20. Communities of Learners and Communities of Teachers.
21. Professional Development: Learning from Experience.
22. Theory, Practice, and the Education of Professionals.
23. Professing the Liberal Arts.
Index.
"Educators and others interested in education will find
The Wisdom of Practice
a very worthwhile addition to their professional reading." (
CHOICE
; 11/1/20004; Vol. 42, No. 3)
"Abiding insights into the strengths and weaknesses of the educational system...make for a sober and welcome contribution to educational reference shelves." (The Midwest Book Review, 5/1/2004)