The Word Made Strange: Theology, Language, Culture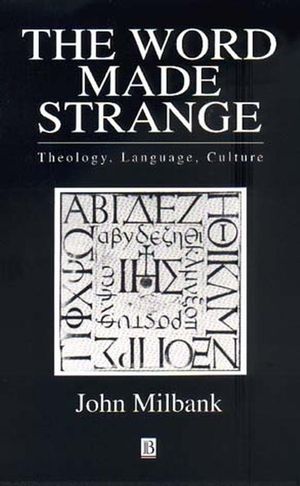 The Word Made Strange: Theology, Language, Culture
ISBN: 978-0-631-20336-0 January 1997 Wiley-Blackwell 312 Pages
Description
The essays in this new book from John Milbank range over the entire field of theology, and both extend and enrich the theological perspective underlying his earlier Theology and Social Theory. The essays are focused around the theme of a theological approach to language, and offer a richly textured and broad ranging inquiry which will contribute to a variety of contemporary debates.
Table of contents
Preface.
Part I: Arche.
1. A Critique of the Theology of Right.
2. Only Theology Overcomes Metaphysics.
Part II: Logos.
3. Pleonasm, Speech and Writing.
4. The Linguistic Turn as a Theological Turn.
Part III: Christos:.
5. A Christological Poetics.
6. The Name of Jesus.
Part IV: Pneuma.
7. The Second Difference.
8. The Force of Identity.
Part V: Ethos.
9. Can Morality be Christian?.
10. The Poverty of Niebuhrianism.
Part VI: Polis.
11. Out of the Greenhouse.
12. On Complex Space.
Index of Names.
Reviews
"This is an important work by an influential thinker. Milbank has emerged as a major voice in contemporary theology, and he commands an audience in broader intellectual arenas as well. Here he extends and enriches the theological perspective of
Theology and Social Theory.
He also addresses criticisms of his earlier work. The analysis is richly textured and ranges over diverse intellectual terrain. Regardless of whether one is persuaded by his arguments, they ought not to be ignored."
Professor L. Gregory Jones, Loyola College, Maryland
"In a scintillating sequel to his upsetting Theology and Social Theory, John Milbank once again displays his mastery of classical and contemporary sources in both philosophy and theology, to lead us to a radical revisioning of the universe in its source, animated by faith in a triune creator." David B. Burrell, C. S. C, University of Notre Dame
"This is a very exciting book, straddling many fields, theology, moral philosophy, political philosophy, aesthetics. It builds a powerful cumulative case against the dominant mode of modern a priori philosophizing - at attempts to establish a priori the limits of reason from the inside, or to define moral and political principles in abstraction from all the multiple conceptions of good that human beings live by, or to define that poetry and art become afterthoughts. Milbank brilliantly connects the arguments that have been mustered by certain philosophers against the narrowness of a priori thinking, with the insights of Vico and Hamann's understanding of the linguistic creativity, and links these in turn to some of the central ideas of Christian theology. This book opens new doors, makes new connections, and will open new perspectives for people working in a host of fields - theology, poetics, philosophy of language, and moral and political theory. It is a truly brilliant and insightful work, defining a personal vision, which will leave no reader unaffected, whether they agree or not." Charles Taylor, McGill University
"In this book John Milbank continues his extraordinary theological project began in Theology and Social Theory. Here, however, we have Milbank developing his Christological and ecclesial reflection with his extraordinary creativity and intellectual depth. All those who were awed at Theology and Social Theory will be even more awed by this book." Stanley Hauerwas, Duke University
"While this reviewer finds Milbank's arguments convincing, all those who wrestle with this profound articulation of postmodern theology will find that- whether they are persuaded or not -Milbank will have changed the way they think about the topics he addresses." A. K. M Adam, Princeton Theological Seminary
"Milbank rereads the theological tradition in order to offer a genealogy of modernity that confronts the latter with it's ghosts, denials and violent complicities, while tendering a radical orthodoxy claiming cultural centrality: theology matters like nothing else...This book stands as a beacon in an otherwise rather gloomy theological scene. It is witty, thoughtful and sharp. Anyone wanting to know whether the British liberal tradition is coming should read this book." Ian Markham Liverpool Hope University College
"It is the rare work in contemporary theology that generates a sense of intellectual excitement. Even where I am not persuaded by Milbank's arguments, I cannot help but admire the skill and intelligence with which he formulates them. To be recommended to anyone who takes the task of contemporary theology seriously." Michael L. Raposa, Lehigh University
"Where Milbank is superior, and can be read with great profit by presuppositionalists, is in his attention to the cultural, social, and political dimensions of Christianity." Peter Leithart, Cambridge University
"Certainly one can see here a major mind at work, and it is certainly commendable to engage those influential thinkers." Max Stackhouse, Princeton Theological Seminary
"The World Made Strange provides a very useful introduction to the thought of one of today's most important intellectuals....Milbank's successful theological performances on the themes of revelation and anthropology have the power to guide the reader toward independent and perhaps more successful christological reflections." R. R. Reno, Pro Ecclesia
"Milbank draws out linguistic, cultural, political, and philosophical dimensions of christology, pneumatology, and ethics in his own distinctive mode: he is rigorously critical, postmodern, and theologically orthodox. The result is intensely challenging." A.K.M. Adam, Princeton Theological Seminary
Features
The first significant work from a major contemporary theologian since Theology and Social Theory (1990).

Covers a broad range of contemporary debates in theology, philosophy, social theory and cultural studies.